Wednesday, June 12, 2013
...is like herding kittens; entertaining and nerve wracking.
Few can enter, even fewer can stay.
I am wired for chaos. It's also known as Crazy Lady Syndrome to the elite online self-diagnostic types.
I am so tired of wasting time fruitlessly trying to straighten out my life just so that the 'theys' the world over will have an easier time trying to package me in cotton and stuff me in the closet to keep me (and their house) safe. I am done being the bull in the china shop. I'm done feeling guilty for being graceless. It's sucking the fun out of being me.
I want to like being me and feel great in the skin I'm in.
I have worked hard to get my health under control. This Lifestyle Change was like a second puberty where it took my world and flipped everything inside out. One day at a time I chose to face demons and face fears. I've had a chaotic couple of years of this Lifestyle Puberty. It wasn't just my life that changed in this transition. Many are having a hard time realizing that their 'little girl' is a 'big girl' metaphorically, literally it's reverse with the 'big girl' now a 'little girl'.
I am becoming a better person for choosing to Spark'le'. I have almost enough energy to care for my five children and enjoy them.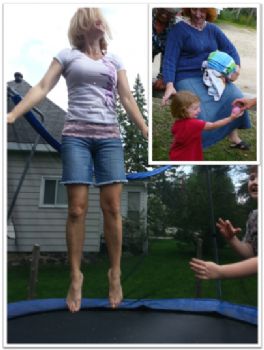 The photo of me jumping on the trampoline is from today. We used to park our tooshies with games or gadgets after school to relax. More oft than not I'm arm wrestling them for a playmate in the garden, on the trampoline, walking or hula hooping.