Wednesday, June 12, 2013
Another night of disturbed rest last night. Made the mistake of taking an Advil PM at 1:00 a.m. and, although I then conked out, I felt very "out of it" most of the day today. Still did manage to do my hourlong water Zumba class, then went back into the pool for another half hour later in the day (these 97º days are overcoming my reluctance to get wet) and had a 45 minute dog walk tonight.
I went over on the calories today but thank goodness that extra exercising compensated for it. I am glad that I am tracking the calories, makes me feel better when I see that scale stubbornly sticking with the bad news. I sometimes wonder if I should weigh every day but, then, I believe it was NOT weighing (and adjusting) every day that got those 15 pounds on. So, disappointing or not, I will continue with the daily weigh in.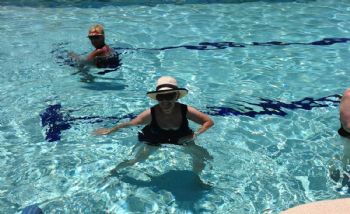 Zumba!