gluten free tortillas
Tuesday, June 11, 2013
I've been wanting to make gluten free tortillas for some tacos or fajitas, or even quesadilla! I scoured the internet finding a recipe and I found one willing to try and had all the ingredients.
www.artofglutenfreebakin
g.com/2013/05/flour-tortil
las-gluten-free/
The picture looks alright, so I tried it this morning. It took a bit to get used to the dough, rolling it and placing it in the pan without it breaking. You should have seen the first 3 attempts.

Here is a picture of my attempt at this recipe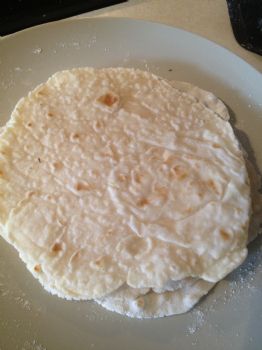 I am impressed with them, they bend so you can fill them up and roll em up. I want to try them making fajitas tonight! MMM I can't wait.