Yes, We Have Larger Size Yoga Clothes

Tuesday, June 11, 2013
A Stephanie Romine daily blog today
www.sparkpeople.com/blog
/blog.asp?post=in_the_news
_this_is_your_brain_on_coffee
contains a round-up of articles in the news, one of which focuses on yoga for larger bodies. That article really brought back memories of when I started yoga. Before I ever showed up at the local studio, I talked to the owner and conveyed my worries about not having a "spandex-compatible" body. She assured me there were people in her classes in all sizes and shapes, but I felt intimidated knowing that, in addition to my size, I also had very little flexibility in my hips. The owner invited me to her Gentle Beginner class, and from day one, I felt at home in that studio. I stayed in Gentle Beginner for at least a year before I felt comfortable enough to try a more advanced class, and now I participate in a mixed-levels class that encourages me to stretch my personal boundaries.
But more about before. I started taking yoga about 70 pounds ago, well before I joined SparkPeople, wearing the baggiest clothes I could find. I even gained another 10 pounds before I made my decision to change. When I did start losing the weight, I wanted to look nicer, so I set out to find yoga clothing appropriate for my size. Sure, I knew about Junonia, but I didn't want to order yoga clothing from a catalog. Anyway, after I had lost about 30 pounds and was going from 1X to XL, I walked into a LuLu Lemon store one day and quietly asked the clerk if they had larger sizes. Miss Bubbly loudly proclaimed, "Oh, yes, we have larger sizes. We go all the way up to size 12!" I turned and exited, muttering something obscene. Fortunately, I walked across the mall to a Lucy store and found my size and caring clerks, but that first attempt at buying "my size" yoga clothes really bummed me. I'm happy that more stores are now responding to the need.
Finally, one other thing that kept me going in yoga was a card from Kripalu that shows a plus-size woman in a difficult pose. You've probably seen it in Yoga Journal: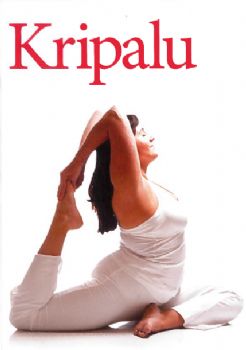 Edit: Wow, thanks, folks for liking my blog enough to be a Popular Blog!