This little excercise of setting a goal to paper has been done for points on our first Weekend Challenge of BLC Round 22. I never would have taken the time to sit down and do this on my own....but when it came to getting points for myself, and supporting the Panthers by participating, then it is something that I made time for....and I'm glad I did. I've been struggling a bit when it comes to getting as much strength training into my week as is recommended. We all know the many benefits to be gained with a regularly implemented toning program so I won't go into all that here. Cardio is easy for me to fit in 5 or 6 days a week. Now I will work on rounding out all that cardio with strength. Setting my goal into the "Smart" format has given my goal a life of its own! It is real now -- it is written down!
I'm limiting my focus to one goal – Increase my muscle definition, strength and stamina.
S – Specifically – I want to increase my strength and muscle definition by doing 3 full body workouts per week, one of which will be a circuit style workout to keep my heart rate high while doing the strength reps.
M – Measuring my progress will be possible by keeping a record of my ability to last longer and complete more of the reps. I have set two exercises on my tracker to measure at 6 weeks and at the 12 week final. They are: number of bicep curls with 12 pound weights performed until fatigue, and the amount of time I can hold a wall squat until fatigue. On my one circuit style workout per week, I have a couple of circuit style DVD's that have sections that I cannot now make the whole way through without pausing. I will keep a record of how long I lasted in those particular sections each week when I do these DVD's, with the idea of being able to complete them without stopping by the end of 12 weeks.
A – Attainability of this goal is definitely possible. Being consistent by getting 3 strength workouts in per week is not that logistically difficult if planned ahead to allow for the upcoming week's schedule. To make it more interesting and "new", I'm throwing in the one day a week of the circuit workout. I know – you're thinking – "What's so new about that? She already owns the Circuit style DVDs!" Yes…I do….but I didn't say I had actually used them extensively. Stating this as part of my goal will be that spark that will inspire me to pull those DVD's out again and challenge myself to improve my performance of the exercises on them.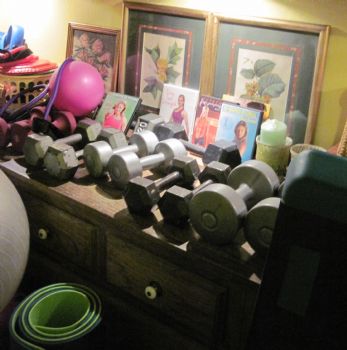 R – Realistically, I feel quite capable of achieving this goal. I have the time and equipment at home for this, and also several classes at the Y available to me. This will not be a walk in the park, and it will take me a bit out of my comfort level at times, but step one will be to sit down with my notebook at the first of the week and commit to 3 non-consecutive days for strength. I will decide which DVD I will use for the circuit training and which day I will do it on. I will also be doing the TNT on either Wednesdays or Thursdays. The TNT will be one of my 3 weekly strength workouts. Starting tomorrow I will plan my workout week. Each week will run from Wednesday to Thursday, since Wednesday is weigh-in day here on the BLC.
T – The starting time is NOW! and the challenge is to stick to the 3 strength workouts per week for the whole 12 weeks of BLC 22.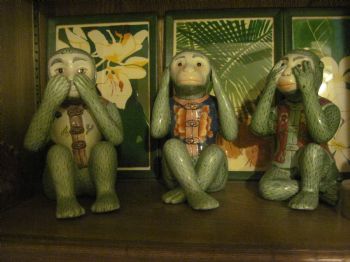 I just had to add the picture of my 3 little guardians that sit over my weight station...they help remind me to stop coming up with glib excuses to not do the workout, to ignore the phone if it rings during the workout, and to face my dread of some of the tough portions on those DVD's.