Well as far as my goal of losing 2lbs last week... I made it! I am officially down 111lbs now and super excited about that. Last week went well for my. I ate pretty clean (a bit more sugar than I would have liked) and I stuck to my workout goals.
Yesterday I got super bored at work so I wrote down my workout schedule for the week:
Sunday: 30 minutes of abs, 30 minute run/walk intervals- done, plus 20 extra minutes of walking
Monday: 30 minutes running nonstop, 30 minutes walking or elipitcal, 30 minutes legs
Tuesday: 30 minutes walking, 30 minutes elliptical, 30 minutes arms
Wednesday: 30 minutes walking at an incline, 30 minutes abs
Thursday: 30 minutes run/walk intervals, 30 minutes legs
Friday: 30 minutes run/walk intervals, 30 minutes arms
Saturday: 60 minutes easy walk, no strength training - this is my rest day
I really really really want to stick to this plan this week. If I do I should see at least a 2lb weight loss and lose some inches in the process. To keep myself accountable I will blog next week and post whether or not I did the workouts I had planned. Wednesday, Thursday, and Friday I am working 12 hour night shifts back to back so those will be the problem days that I really have to force myself to get to the gym. My plan is to keep my workout clothes in the car and go right after work every day. That way I have no excuse!
As far as eating goes.. I want to eat super clean this week and get away from the sugar! I have a big bag of M&Ms in my cupboard that have been calling my name. They are left over from my son's birthday party. I used them to make the most adorable little cars.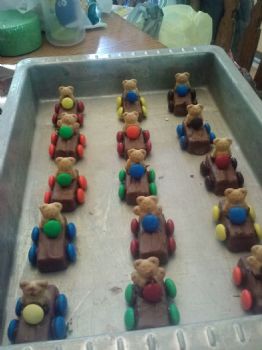 I already ate some yesterday

. I want to stay far away from them the rest of the week. I don't need all that sugar. I should just throw them away but I can't... I have a huge issue with wasting food. Maybe I'll take them to work.. nurses love candy.
I want to focus on getting plenty of protein and veggies this week. Plenty of water. And I want my only source of sugar to be from fruit... no candy, no cookies, no junk!
Ok.. I'm heading off to the gym to get my workout out of the way for today! I want to lose another 2lbs this week. I know I can do it!