Random Thoughts
Monday, June 10, 2013
Some random bits and pieces...
Since I know I won't have a ton of time for my regular workouts this month, yesterday I decided to do something out of the norm. I took 2 classes at the gym right in a row! Thankfully, the classes went from easy to hard. I did BodyFlow, then had a 20-min wait for BodyCombat. In those 20 mins, I used the foam roller on my hips (which are always tight) and walked on the treadmill. I skipped the last 10 mins of Combat, which is mat work. I figured I got enough mat time with Flow.

. . . . . . .
I'm reading a book right now called Against Health. [Side story: I learned about it through my ex-BF who contacted me last month -- after 7 years of no contact. He was seeking input from significant people in his life for a tattoo he is designing. (I kid you not.) I declined participation in that silly, self-involved exercise, but we did trade a couple of emails back and forth about our lives, and he recommended that book to me.] It's a collection of essays by academics, written in a too-academic-for-my-taste-styl
e, and so I'm getting through it very slowly. It asks some interesting questions about health, and the moralistic ways society frames the issue of health... And the joys we get from being unhealthy (smoking, eating). As a public health practitioner, I've thought about some of these issues before, but it's interesting to read about the topic from a decidedly not-public-health viewpoint.
. . . . . . .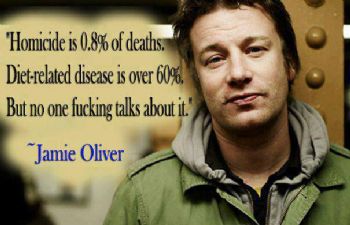 Do you agree with this quote from Jamie Oliver? Do people not talk about it? In your world, do people acknowledge food, food access, food manufacturing?