Hatfield-McCoy Marathon, 2013. I was supposed to run a full marathon on June 8th. I'd been having trouble with my right knee, but I figured it would be okay.
The trip to the mountains was great. I am a mountain-lover, and I'm a fog-tourist. I take pictures of fog. Weird, I know, but it feels safe and homey to me.
Saturday morning was a beautiful day for 26.2 miles. Really. It was in the mid-60s, fog hanging in the mountains, lots of good energy in the air. I started out with Suezette and a few other people. We stayed together for about 8 miles.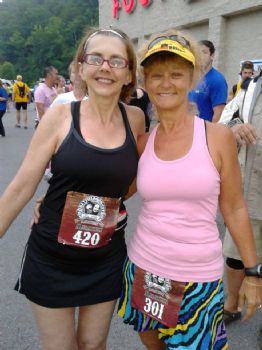 We were having fun, laughing, taking pictures. The scenery was amazing!!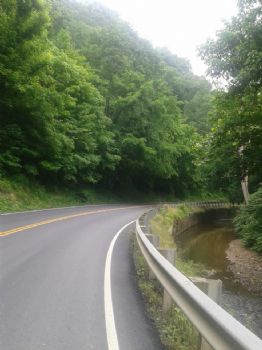 I've run the race before, so I knew what to expect at Blackberry Mountain. Yes, up and over. The up part wasn't bad. I knew the down part would hurt. The other ladies went on down the hill at a good pace. I told them I would hang back, go slowly, catch up. My knee wasn't going to do the downhill, not at all.
Almost to the bottom of the hill. Pop. Yes, that was my knee. Mile 8. OW!! It felt broken. I slowed way, way down. I could still see the other ladies up ahead of me, and when they stopped at the port-a-potty, I caught up to them. They went on afterward, and I hobbled along. I was getting slower and slower.
I was determined to make it to the half marathon finish line. I know it wasn't the full, but I was going to cross a finish line one way or the other. 13.1 miles is nothing to sneeze at, especially with what felt like a broken leg.
Everyone kept asking me if I needed a ride. I said no. I was going to take pictures along the way, and at least enjoy the scenery.
The ambulance people saw me at mile 12. They asked me if I needed a ride. I said no. The half marathon finish line was only a mile away. I was going to get there with my own two feet.
They followed me. Really. An ambulance followed me all the way to the finish line.
I finally crossed the Half finish line in 3:28:36. How slow is that???? Oh well. I finished, I got my medal and my mason jar (hillbilly themed race), and I got in the ambulance and had them drive me to my husband. He was waiting for me at the full marathon finish line.
We went to the ER, and I discovered my tibial plateau was broken. Ugghhh. After an ortho consult, they gave me a gigantic robo-brace, some crutches, and told me the ortho clinic would call me with an appointment.
The thing is, the injury wasn't due to running. It was due to osteoporosis. I am NOT happy with that, but what can I do?? I suppose I'll have to ask the doc when I see him in his office.
For now I'm rockin' the robo-brace look.