Sunday, June 09, 2013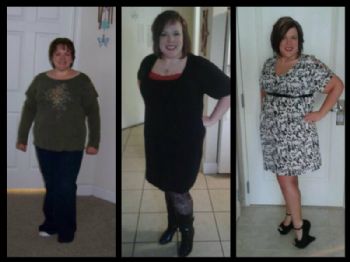 Staring at the collection of photos on my computer from my starting weight until this weekend, I can not help but think about how I am evolving; not only physically but emotionally and mentally. I look at the first picture and I see someone that I never want to be again. I don't want to be that woman. I don't want achy joints and not be physically fit. I look at that picture and I see my aunt. I don't want to be obese anymore. I don't want to be that person anymore.
Then I look at my current picture and am amazed at how my style has changed, my face has changed, and my body has changed. This is not the end. I will continue to lose weight and change. I am finding out who I am as life goes on and realizing that I'm beginning to like myself more every day. I love my photo image. I still can't trust a mirror, because I still see 230 lbs and not 190. It's amazing how images of ourselves get so emblazoned in our minds that we really have no grasp on our reality.
I'm evolving. I am becoming the woman I was meant to be.