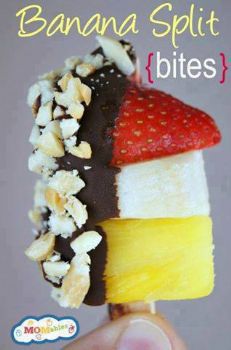 Banana Split Bites
Makes 12 Bites
Ingredients
12 1" pieces pineapple
1 banana cut into bite-sized pieces (make sure your bananas aren't too ripe)
6 medium sized strawberries, cut in half
2.5oz dark chocolate
1 teaspoon coconut oil
Chopped nuts or coconut (optional)
Directions
Cut fruit and assemble into stacks.
Press a popsicle stick through the fruit and freeze until solid.
Prepare a baking sheet with parchment paper.
Melt the chocolate along with the coconut oil on the stove-top or in the microwave, stirring frequently to prevent burning. Once completely melted, remove the frozen fruit from the freezer.
Dip the fruit in the chocolate, let the excess drip off and then place on the sheet to harden.
If desired, dip the chocolate covered side immediately in chopped nuts or coconut before placing them on the sheet to harden.
Once the chocolate is completely hardened, remove from the sheet and place in an airtight container to store in the freezer until ready to serve.
Notes
Make sure that your bananas aren't too ripe. If you use a ripe banana the sugars break down, which will result in a mushy banana once thawed. Using an unripe banana with prevent this.
♥✿✿d
47;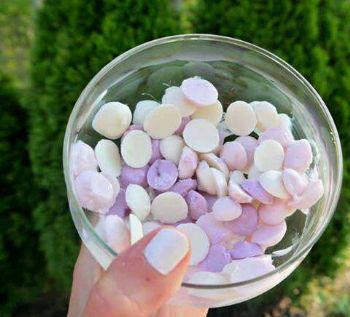 YOGURT DROPS
Oh I love this idea!!!! ( I would use plain Greek yogurt blended with real fruit not the flavored ones from the store--- They are loaded with sugar!!!)
Frozen yogurt drops are such an amazingly easy and healthy snack!!
Put your yogurt in a baggie, trim off the corner with scissors, and squeeze drops onto a cookie sheet lined with wax paper and freeze.
Then store in freezer bags and they are ready for a quick snack on the go, or I even put them in my smoothies!!
A great treat on a hot day!!