When I was a teen I used to love "Mad Magazine". Maybe the leading satire comic book back in the 50s and 60s, when dinosaurs roamed the earth. Even into young adulthood, I could appreciate the brilliant wit in this mag, which poked fun at life's absurdities.
Lately, I am seeing things which were, years ago satirized, becoming reality. One such incident jumped out at me this morning when we received our Sunday paper, which all its supplements, flyers and coupons.
There was an ad for a local burger joint - I think its a franchise and may be well known.
Here is their latest burger offering: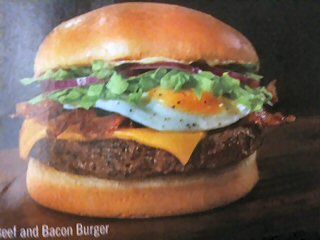 This baby has... are you ready?...
A freaking EGG, Bacon, cheese and a huge hamburger between its buns! A freaking EGG!?!
What can 'they' add to the next incarnation of a hamburger? A scoop of ice cream? Perhaps a slice of cheesecake? You heard it here first if you ever see one of these.
Please allow me to digress. When I was a kid I thought I was a funny guy. Surprise, a teen who thinks he's a wit. Well maybe I was half of one.
Anyway, when we'd go out for burgers or hot dogs, I had a standard reply to "what'll you have on that, kid?". If it was a hot dog, I'd say - "I'll have a hamburger on mine" or if it was a burger I ordered, I'd say "I'll have a hot dog on mine". Well if you were 16 years old and you were there, you'd laugh. Most of my friends did.
So, my burger on a hot dog joke doesn't seem way far off from today's burger with bacon and an EGG on it.
Thanks for reading and have a great day.