Friday, June 07, 2013
This is my garden at the front of my house. All weeded...new white stones added...and flowers are coming along a treat. This garden is ALL perennials but when one flowering is done on one another flowers etc...right through till the early Fall. See the yellow flowers out here already?( to the right ) Once they fall....another in the garden will flower and so on~~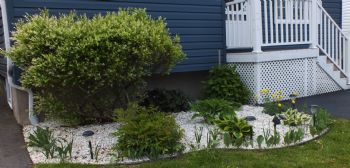 This is one of my back gardens...Here I have a mixture of annuals and perennials. The annuals just perk it up till these late blooming perennials take over. Although I do have some flowers on my old fashioned Bleeding Heart and my Evening Primrose. My wee water girl we bought in Maine last year as well as the Canadian Flag wind director....could not resist buying that wind vane when I saw it in an American shop...lol

This wee rock garden is at the back fence that belongs to the Forestry Department yard...the fence is a mess and must have been there for near gone 50 years! Even some of the trees have grown through the fence! You cannot see them yet here but I planted *anything climbing* seeds right along the fence and I am hoping they will grow and cling to that darn old fence! LOL the are growing above ground so here's hoping eh?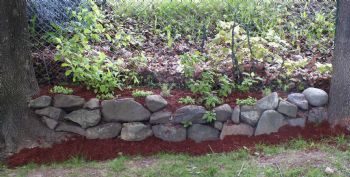 Here are the 6 hanging baskets on our gazebo...starting with the 2 at the front opening...then the 2 at the side...then the 2 at the back~~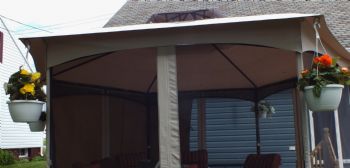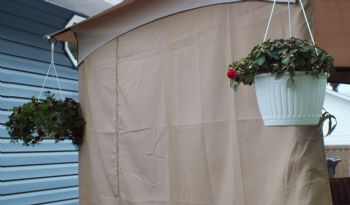 These are the 2 hanging baskets on our south fence~~

And these are the 2 on our north fence~

And last but NOT least! I got rhubarb this year!