Friday, June 07, 2013
My daughter is now a published co-author of a children's book!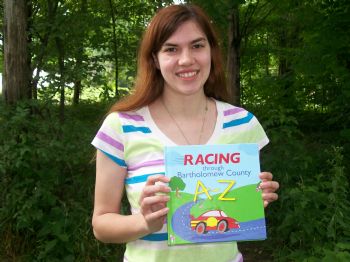 It is an ABC book about our county. They went with the racing theme because Tony Stewart of NASCAR is from here.
Last fall, Candice was taking her Early Literacy class in college and they decided to make this a class project. They divided up the alphabet and spent time researching, writing rhymes for each letter, editing, and taking photos around the county and of the city of Columbus, IN. Candice was in charge of the letters H and I. She wrote about Hope Heritage Days (our local 3-day festival) and Irwin Gardens (renowed gardens open to the public from the family that started Cummins engine company)
It has been quite a week for our daughter...she got her first career-related job offer and acceptance (preschool teacher) and her (collaborative effort) book was released!
As her homeschool mom from 2nd-12th grades, this week has been so rewarding and I am truly enjoying the fruit of my labor and praising God for what He has done in her, with her, and through her inspite of her dyslexia and inspite of me and my weaknesses and my many previous health issues while homeschooling her. God is so good all the time!
heritageofhope.com/herit
age_of_hope/heritagedays.html
irwingardens.com/