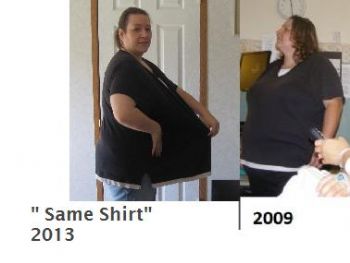 Have you ever had a favorite shirt or pair of pants that no matter how big you got they stretch with you & seemed to fit fine-maybe a bit snugger but you could still get into them?
Well that is this shirt for me.
If you look back over my pictures through the years people have for holidays or birthdays or even going out you will see me in this shirt way too many times. It was my fall back shirt-one that stretched as I stretched & as I got to my highest weight-it became one of the few shirt I had that I could actually fit.
Clothes are not cheap so I wear mine until they fall apart basically -well now a days I wear them till they fall off LOL That is much better-falling off for a good reason-not because they are so old. :)
I decided to take 1 last picture in this shirt to see the difference. Even the photo above wasn't my highest weight but pretty close.
It is crazy I can fit my daughter or hubby in that shirt with me no problem now.
I considered holding on to it for a goal photo with it-ya know when I reach my goal-but it's time to let it go.
Giving up that shirt is kind of symbolic to me-a way to mark a new life for myself-a way of letting go of the past & living in the now.
The photos in it are a way for me to reflect back & be proud of how far I've come-to show me it's totally possible & most of all be an inspiration forever to keep me never going back to that weight.
Yes it is time to say goodbye old friend-time to part our ways.
I'm slowly finding clothing I can wear for my new job, which I start on Monday.
Thrift shops & consignment shops are doing pretty good so far. Got a few outfits but need to find a few more. Hope to go out today & go to another goodwill in another town to see if I can find something there.
I did manage to find CJ Banks-how come no one told me about that before-I didn't know they carried plus size clothing! I know Christopher Banks was small but didn't realize they had CJ for plus size. Well they have clearance sections that take additional 50% off marked prices. I found 2 really nice dress shirts there cheap. They came with a cami under that is removable so that helps expand my outfits. Then I found a pair of pants for $2.49 & $4.99 there. YEP awesome!
Having fun finding new stores I can try-even if I can't afford it -it's still fun to try it on & finally walk into more basic stores like Sears etc... and find clothes.
Remember I was a size 34 pants + (those were getting really small)/4X moving my way right into a 5X. So shopping at basic stores or even consignment or thrift shops-you just can't find those sizes very easily.
And I don't know who designs big clothes like that but why in the world do you put big huge flowers or side way strips on a 4X/5X shirt, dress or pants. I mean come on people!
I'm really looking forward to giving up my big clothes & finding new clothing & I look forward to falling out of my new clothing into even smaller sizes :D
So here's a big GOODBYE to my favorite fall back shirt.
It is good to know I will no longer need you~