Thursday, June 06, 2013
so i reached out tonight to my husband and asked him why cant i just get back on track? why am i struggling so much and falling back into late night eating and surviving on junk food...... biggest thing we both thought about is the food we have been eating lately or planning out dinner is always the same exact thing almost a meat and 2 veggies, there is no real planned lunch breakfast or snacks....... the other part of my struggle is self confidence, i was talking with a friend on this today reaching out for help and she told me what gives you the right to beat ur self up, how can you look at your kids and dare to say one bad thing about yourself, your daughter looks just like you and you tell her all the time shes beautiful why dont you ever tell yourself that! that hit home i never look in a mirror and think hey i look great or im beautiful or anything positive its always ugh my hair wont stay in place or i have a pimple etc. or anything honestly i just posted some pictures of me all dressed up to go to joeys nanas prom and the first thought that popped in my head is that dress makes me look so fat!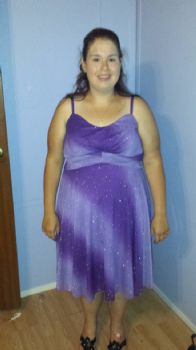 so now i look at that picture and say to myself i look beautiful! i cant tell you how many times that day i got complimented by hubby and others but im so thick headed lol! so im gonna keep practicing at it here are a few more pictures.
here are my babies ignore the mess lol