After Race Side Line :)

Hospital Hill 40th Year Half Marathon Race Recap!

My morning went smoothly! I knew what to expect as far as line up and corralling. My main nervous energy came from thinking about my actual run and visualizing it while waiting. I definitely wanted to run it as Daft Punk would say "Harder. Better. Faster. Stronger!" Get out of my way Kanye!

I was actually SO amazed by the feelings I felt at the start, middle, and end of my race. I felt very focused and reached what I think and feel as flow. (I can't stress enough to other runners that simplicity is a very good thing!) Listening to my inner peace

and meditating on the in sync movement of muscles in good form and balance. I think about kinetic energy and running with the world and it's spin. Being one if you will, with the environment around me! So poetic. Lol. But SO true.
The last few steps and sprint down to the finish line was awesome and satisfying. I'm tearing up again reflecting on this moment.

A surprise kick and a few words from a fellow runner behind me and surely passing me to say "Only 5 more meters don't slow down, COME ON!" I picked up my knees and tilted forward to push as much as I surly could until throwing my hands up to declare VICTORY! (I will always throw up my hands at the finish line. I think it comes with the territory and would feel cheated not to.)

I'm actually confused as to why more people don't do this?
Anyways ... I'm waiting for the professional race photographers pic's too see the visual picture of either, Oh yeah! or complete and udder shock of the faces I made. Us women know that feeling.

Heehe. I Don't know if guys feel the same?
I am fearless! I made it faster than last year. I was told not to beat it by too much but I couldn't help it.


THIS YEAR - 2:11:32 ! Woo Baby woo!
Last years - 2:14:12
Next years - ?

All the feelings I felt were there because of all the little victories I've made throughout the winter. Putting in the time! Reading about form, caring about balance, strength, and endurance. Practicing those skills everyday. That is empowering. I'm hooked for life!
Thank you friends for every drop of encouragement you've gave me along the way!


Nikki :)
*Bonus pics of my sweet baby Jetson Marie. Never mind my hair ... we'll just go with 'just got of the treadmill' as apposed to 'just got out of bed.' ;)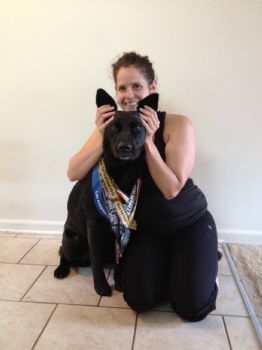 *I guess you can't do multiple videos on one blog. My bad. I will post the other two.