Up and down, up and down... the scale will move within a 4-7 pound range depending on what I did the weekend before.
Last weekend, again, saw 181 on the scale. Monday, after having a semi good weekend, not too much over indulgences at all, it said 184.4. Really, that's not too bad, and I know some of it is water weight. But I lose it on the weekends. I relax a little bit and don't stay as strict because I want to have fun.
So maybe I just need to be happy with where I am. When I was losing the weight, I just wanted to be below 200... I got greedy when I finally got there and wanted to keep going. I don't even want to go too much further, just 6-7 more pounds to reach 175. I could get smaller, I'm sure, but I'm just happy. I'm happy that I lost over 150lbs, happy that I've been maintaining. Maybe I just need to stop putting so much pressure on myself to lose those last 7 pounds and just keep maintaining where I am. My body seems to be OK with where I am... maybe I should be too.
Otherwise, other than not being able to lose my last 7 lbs... I've just been doing lots of wedding stuff. My fiance and I went and looked at reception venues last weekend in Pewaukee/Waukesha area. We found one we like at a brewery, I'm just worried the hall will be a bit too small. We're planning on having about 175 people, and that's not including kids. We haven't decided yet on if we want kids there or not - I'm leaning towards no, but I know a lot of my family won't come then.
I'm still looking for my dress - I've found a few that I like, but nothing that I LOVE. But, one of the dresses would fit really well for the brewery venue, so maybe if I don't find one, I'll go with that one.
Two friends and I did the color run a few weeks ago in Racine. There were over 7,000 people there. It was COOOOOLLLD out, but a lot of fun! Can't wait for next year!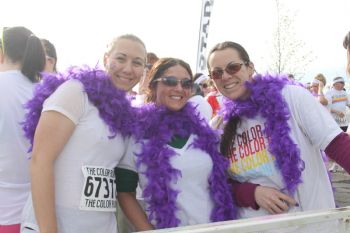 I'm really ready for summer.

Its been colder here for this time of the year, and its getting a bit ridiculous. I shouldn't be wearing long pants, sweatshirts and fuzzy socks in June! I almost wanna even turn my heat back on some days! I'm ready to sit out on the lake and get some sun! Less than 18 days till my birthday and it better be 80 and sunny!!