Tuesday, June 04, 2013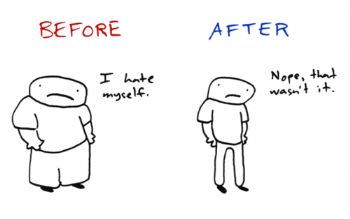 Before: I hate myself.
After: Nope, that wasn't it.
Realize that weight is not the issue. No matter how much you lose, you will still be the same on the inside!
Fix your head first. Do the work and make the changes. Your body will follow.
-------
02/06/13
before and after
Toothpaste For Dinner: Daily comics by Drew
A Sharing Machine comic
www.toothpastefordinner.
com/index.php?date=020613