The Rains of Castamere
Monday, June 03, 2013
Well Sparkers, if you watch Game of Thrones, you know last night was a tough episode to sit through. A friend of mine and I have spent the day enjoying the wails of horror that keep coming from Facebook and Twitter. Everyone seems really upset about the whole thing.
Of course if you read the books you knew this was coming. For weeks, my friends and I have been speculating on when the Red Wedding would be. It was something that both excited us and filled us with dread. Now it's happened, and it was just as horrible as we imagined it could be.
Now, my buddy and I are on Facebook, making up fake spoilers for the show-watchers. Occasionally, we throw in a REAL spoiler...which sends us into hysterical laughter. Since it's buried in a great pile of fake spoilers, the show-watching, non-book reading folks don't catch it. And why should they? We keep picking the most unbelievable spoilers we can think of. It's really a fun game.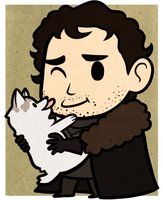 Winter is coming, Sparkers.