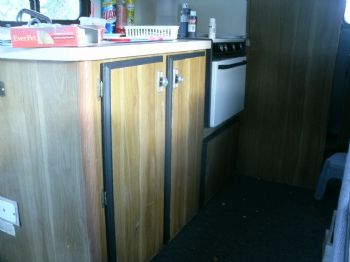 I have been working on the motor home. It is still a work in progress.
After doing some cleaning in the kitchen area. I was going to paint the trim around the cabinets light ivory but I did not like it. I then decided to try black. I really liked the black as it brought out the wood on it to me.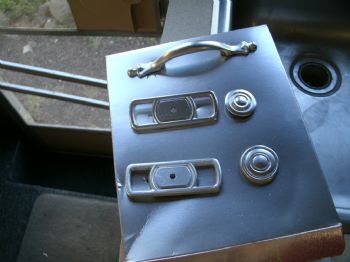 We took the handles off and painted them silver because that was the spray paint we had.
What was interesting is when my hubby put some of the handles back on it matched the stove and the fridge.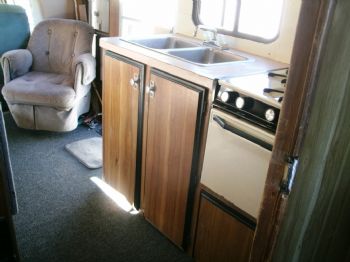 This what it looked like.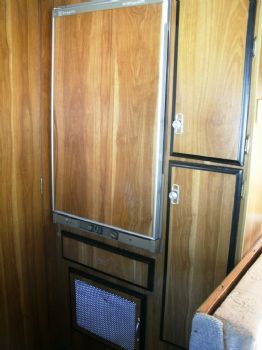 This is what it looks like on the other side. My hubby is taking old caulking off on the outside so not all the handles have got back on. We even painted the grate at the bottom of fridge.
I have a lot of work to do in the bathroom yet. I may do the trim in white to match a shower curtain and picture I am putting in there. The biggest problem I have is the surround around the tub. It is really got a lot of soap scum on it. I think someone lived in the motor home for awhile. Not uncommon in this area.
I have read not to use scouring powder because it leaves residue in the tanks. I usually use baking soda and a scrunchy to get it off, but I was afraid the baking soda would do the same.
I can't use the chemical soap scum products because of my slight asthma. IF YOU HAVE ANY IDEAS LET ME KNOW IN COMMENTS.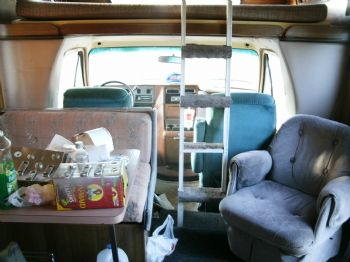 Here is the front of the motor home. As you can see we are still working on that too.
Hope to have some more pictures when done.
Let me know what you all think.