Sunday, June 02, 2013
Grains, I knew were not all that great for teeth. Here is an actual study using only oatmeal, the subjects: children. Not good :-(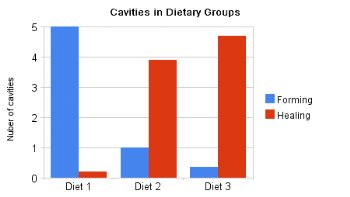 "I'll start with diet 1. Children on this diet ate the typical fare, plus extra oatmeal. Oatmeal is typically eaten as an unsoaked whole grain (and soaking it isn't very effective in any case), and so it is high in phytic acid, which effectively inhibits the absorption of a number of minerals including calcium. These children formed 5.8 cavities each and healed virtually none-- not good!
Diet number 2 was similar to diet 1, except there was no extra oatmeal and the children received a large supplemental dose of vitamin D. Over 28 weeks, only 1 cavity per child developed or worsened, while 3.9 healed. Thus, simply adding vitamin D to a reasonable diet allowed most of their cavities to heal.
Diet number 3 was the most effective. This was a grain-free diet plus supplemental vitamin D. Over 26 weeks, children in this group saw an average of only 0.4 cavities form or worsen, while 4.7 healed. The Mellanbys considered that they had essentially found a cure for this disorder in its early stages."
wholehealthsource.blogsp
ot.com/search/label/dental
%20health
The blog (link above) above is by Stephan Guyenet. He conducts research on obesity and the regulation of body fat by the brain at the University of Washington. He received a B.S. in biochemistry from the University of Virginia in 2002, and a Ph.D. in neurobiology from the University of Washington in 2009.

TEDxHarvardLaw - Speaker: Stephan Guyenet - The American Diet
www.youtube.com/watch?v=
HC20OoIgG_Y