I have been on this journey since 2008. FIve years later I am still not at goal. I have continued making healthy choices, staying within range and exercising faithfully. For over two years I have seen no progress. Yes, those years have been filled with a stressful family situation.
I have been doing all I can to overcome the stress in a situation over which I have no control or ability to affect change.
One of the ways I have done this is to start taking photos again. I have always loved doing that. I have hiked, walked the neighborhood, visited gardens and done a small bit of traveling taking my camera along.
In the past year I have started a daily photo blog, where I post one image every day. Photographers from around the world use the site and I get positive feedback from many of them. They have helped me learn and get better as a photographer and editor. (
www.ruthiemade.aminus3.c
om
) (If you visit please leave a comment at the bottom of the page.)
One of my trainers at the gym is a professional photographer. She has encouraged me so much, telling me what a great eye I have. SHe also challenged me to blow up some of my images onto canvas. I have done this, though I was scared they would look awful that big. Everyone loves them and tells me they look like paintings.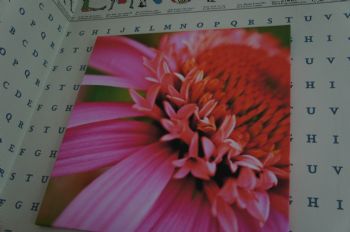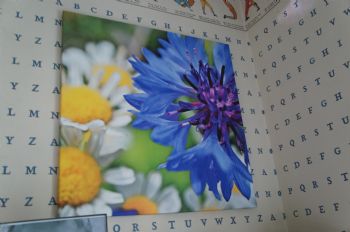 I have been building up confidence in myself as a photographer. In so many ways I have felt like a failure and a disappointment. Pursuing my photography has been a way to restore faith in myself.
Three weeks ago, we were at a NJ HIstory Fair at the local park, and I met the pastor of the church down the street. He told me about their first NJ Heritage Fair, featuring local businesses and artists. He invited me to participate. No fees involved. I accepted, but I was very nervous and scared. I had never put my work out there for people to buy.
I had a bunch of my photos printed on metallic paper and made them into photo frame cards. I also had some postcards printed.
It was a lot of work but I felt happy doing it.
Yesterday was the big day. The church gave me a perfect location, under a tree so I had shade all day, and near the entrance. In addition to the photocards, I also brought along 3 of my canvases.
It was from 11-4. During that time I got so much positive feedback. People actually said they loved my photos! They told me what good eye I have. They were telling me stories about some of the scenes I captured.
ALthough I did not make a lot of money, I made a lot of new friends, who have my business card and can buy images if they want to. I sold quite a few photo frame cards, took one order for prints.
More than anything else, I am happy that I put myself out there. I am finally accepting that I do take good photos. I feel like I am succeeding in something.
If you would like to see the images I am offering you can see them here:
www.ruthiemade4u.shutter
fly.com
I think you will like what you see!