A Yummy Pizzaria Pizza Meal Today!
Sunday, June 02, 2013
I just have to share with all my wonderful friends the yummy pizza I made for my family today. Here's a photo and link to the recipe.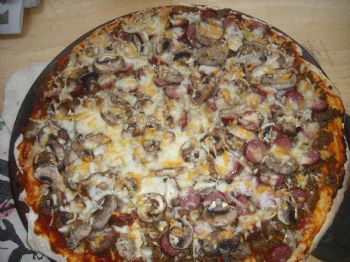 .http://www.sparkpeople.com/myspark/recipe_details.asp?nutrition_id=66555340
I could eat a whole quarter of that pizza for only 394 calories and 8 g. fat. I didn't think that was too harming and it sure was filling!
I originally got the recipe from SCTF75 because she had mentioned it and loved it. The crust is very thin and you don't need very much sauce to make it taste good. I have a pizza stone so used that. I used lowfat chicken, spinach and mozzarella sausage, sliced and fresh mushrooms for my part. The rest of the family had beef brats, sliced and pork sausage along with the mushrooms on their part. You can maybe tell by the photo that there's other kind of meat on the main part of the pizza. When I figured the nutritional values I just figured it with what I fixed for myself on the quarter of it so I could count what I ate.
So here's an advertisement for a really luscious pizzaria pizza! So, if you try it I hope you enjoy it as much as I did. I feel with losing weight, that I have to have a lot of variety to my new way of eating to keep my interest piqued! So I'm always game for something new and different.
Good luck to us all on our journeys to better health!

Karen