Saturday, June 01, 2013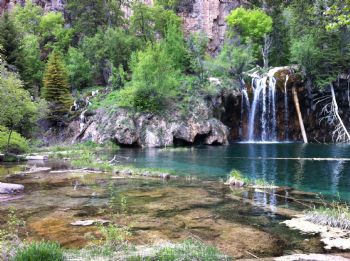 I ate around 2,000 calories yesterday, but I also hiked up to Hanging Lake with my dad, so I'm not too worried about it. The hike wasn't that long, but it was pretty much a vertical climb over lots of rocks. Totally worth it though; as you can see, the view is gorgeous. We actually made pretty good time, and afterwards I still had a lot of energy even though my legs were shaking. I'd forgotten how much I love hiking. I mean, I've been doing a lot of walking outside on this nature trail we have around here which is pretty great, but nothing beats a good hike. I really, really hope we get to do a lot more of it this summer.
ETA: It looks like SparkPeople increased my calorie limits from 1220-1550 to 1360-1710. Do any of you guys know why it did that? I can't seem to find an answer.