Friday, May 31, 2013
I'm wearing my woolen beany and scarf right now, and I'm inside our house. We have a reverse heat cycle whatsemethingything, or whatever it is called again, which blows out warm air in winter and cold air in summer.... the room is rather large thou and it doesn't get really warm... and as hibernation unfortunately isn't an option curling up under a thick blanket on the couch definitely is!!! You don't burn many calories though.... hmmmm.... I will do some exercise though right now... okay right after I finished writing this.... and after that I can curl up with a good conscience.
I did a lot better today with munching. I felt a bit like cheating though, you know with not eating sugar... I didn't yet it felt it. I made pancakes for dinner, not American ones but large European ones and filled mine with unsweetened apple sauce and some cinnamon. Yet it was great, I used wholemeal flour and it was delicious...

I can't help it, but I am absolutely grateful for our house.. it isn't only a house but it slowly turns into a true home. I love changing colours on the walls and how we have the furniture, add a thing here or take something else away. I never thought we'd ever be able to actually buy a house, not really being "career people" (having a missionary/chaplain/student/bu
sdriver for a husband says it all). Yet we manage, the kids don't have to go hungry, nor have we had to sell them yet to pay for the mortgage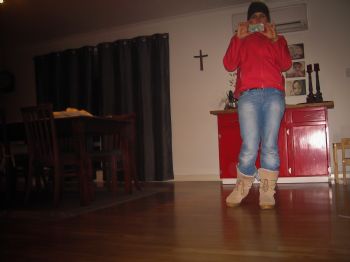 Hmmm, maybe I should send my oldest off to learn some more about photography to help pay off the mortgage????? Now and then he manages a descent shot