Monday, May 27, 2013
DH and I are following along with the Garmin Connect's training chart for running a 1/2 marathon. It's really challenging but we are trying to stick to the plan. This Saturday marked the second week of long runs so I decided to do a comparison chart to see how we were doing. Not only did we feel a bit better this week while running the longer distance (through our new hilly terrain) and did improve upon our average splits. Yay! DH and I both have Garmin GPS running watches which we wear individually and compare the workouts after each week. It's great fun to see what each watch can do since his is about $250 more than mine. I have the new pink Forerunner 10 and I really enjoy the simple features. So anyways, this chart below is the comparison chart from Garmin Connect.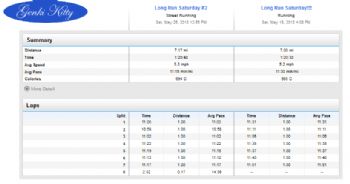 *Note: I'm not sure if you can see the numbers easily but you can always see it larger on my website: genkikitty.wordpress.com.