I am finally semi-gainfully employed - 20 hours per week, although being May and all, I'm putting in about twice that at the moment, which is fine. I work for:
heritagefarminc.org
where I am the landscaper and greenhouse manager. Ten hours a week I have SEMP (Supported Employment) help - one of the participants is assigned to me to do whatever I ask them to do, typically simple but labor-intensive tasks, like moving 100 flats of vegetables from one place to another. The other ten hours I spend doing any number of landscaping tasks, from climbing around in the barn looking for various things to planting shrubbery. Right now I'm there so much more simply because it's planting season (and also the big important Dinner is coming up in a week and a half, and everything has to look Perfect.)
My main project at the moment is the Sensory Garden, which is a wheelchair accessible garden that, as the name suggests, engages all five of the senses. I'm putting in plants with different textures (fuzzy, smooth, rough), scents (herbs and scented geraniums), and tastes (different mints, nasturtiums.) For hearing, I have wind chimes and a little waterfall into the pond I dug in last week, and for seeing, well, with any luck the whole garden will be gorgeous, with all different shades of green in addition to different colors of flowers. I also have a bird-feeder and bird bath, and a gazing ball to put in.
So far I've gotten the paths in. I didn't take any "before" photos, but this shows the wheelchair accessible path: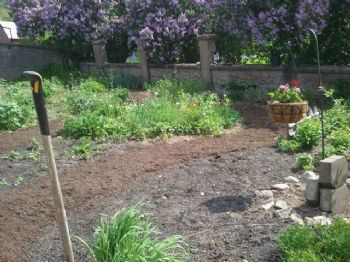 where you see the weedy places, well, the whole thing was like that. There are a few perennials buried there in the weeds, but it's mostly just scrub. I have to tear all that out and replace it with plants and the other items I mentioned. Since this photo of the path was taken, I've put in three raised barrels so that people in wheelchairs or who cannot bend easily can still run their hands over the herbs and taste the mints.
Just wanted to bring my Spark Buddies up to date - and this explains why I haven't been around as much. Too busy!




(that's a truck load of mulch! )