Today was a beautiful day for a race. The 5K along the Ohio River flood wall seemed like the thing to do. The 5K was part of a multi-sport racing event, consisting of a Triathlon, a Duathlon, a Sprint Tri, and a 5K.
My daughter and two of her children decided to run the race, too. Marshall is 7, and it was his first 5K. Melanie is 9. She has run several 5Ks. We told the kids we were racing, and they would have to run on their own. They were good with that. They would just follow the crowd.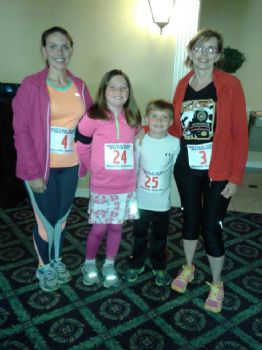 We got down to the river about 45 minutes before the 5K started. We got our chips and went to the river to watch the swim. What an amazing swim they had! The swimmers jumped off the barge and swam with the current down the Ohio River. We cheered when they came out of the water.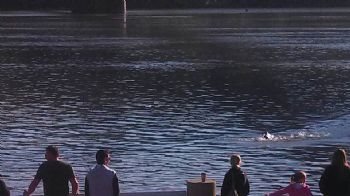 Soon, though, it was time to line up for the 5K. The air horn sounded. Marshall took off in front. Melanie was close behind him. Within a quarter mile or so, Melanie had dropped back. Marshall was about 5 seconds in front of me. Brandy was behind me, and Melanie was behind her. We kept that placement through about 1.25 miles. Then came the stairs to the flood wall. They were tough stairs!! They were very steep. We got to the top of the wall. I'm not sure what I expected. For some reason, I didn't expect grass. Not at all. If I'd known there was going to be that much grass, I would have run in cheap shoes and removed them on the wall.
I like cross country events, but they make me nervous. The grass was wet with dew, and it was slick. The ground had quite a few mole holes. It was very uneven. It wasn't very wide, and it seemed if we went down for any reason, we'd have quite a slide to the bottom. It also included a slick downhill portion (they had a rope to grab) and a run behind the wall, and then back up a slick hill to the top of the wall again. I slowed my pace by almost 2 min/mile. Ever since my shoulder replacement in 2000 (3 of them in the same shoulder), I am extremely guarded with my shoulder. I did not want to fall down.
Marshall's lead got bigger. Brandy passed me, and she caught up with Marshall. Melanie fell further behind. We didn't see her anymore. I kept Marshall and Brandy in my sights. They finished about 30 seconds ahead of me. Marshall's first official 5K results: 28:26. I came in at 28:56. That is the slowest 5K I've run in forever! I'm good with it.
Brandy came in one second behind Marshall. Then she doubled back to find Melanie. That poor kid. If you look up "perseverance" in the dictionary, you will see Melanie's picture. When Brandy found her, she was crying, and she was bloody. She'd had a nosebleed when she climbed the stairs to the wall. She was by herself when her nose started bleeding. She said, "I looked around and all I saw were strangers." Even though she was bloody and crying, she continued because, really, where else was there to go? She was on a flood wall! She slowed to a walk, and then everything seemed to hurt her. It took her 41 minutes, but she did it -- with blood on her race bib!!
Both the kids took 2nd in their age groups, and Brandy and I each took first in ours. And the best part was, Marshall was waiting at the end for his big sister, and he high fived her and told her she was awesome!! The award was quite a confidence booster for Melanie. I'm so glad she got an award!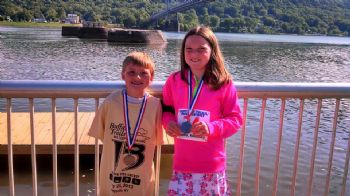 Today was such a good day. I'm so proud of these kids!! They both put out a hard effort, and they both did so well!!
Every day should be as good as today.