So...I'm back to slow Sparking, indefinitely. I thought I was taking it easy the last couple of weeks, but when I looked back, I realized that maybe I hadn't, so much. I'd snuck in a lot of housework, a little hooping, grocery shopping, laundry, cooking, video editing, etc. You know the drill. Anyway, I think I overdid it, because I had another setback this week. Apparently, damaged nerves need a lot of time to heal-- bummer. I'm still taking super slow, short walks on the elliptical, just enough to keep the streak alive. But, other than that, I've made myself lie in bed with icepacks and try my best to move as little as possible ALL week. I am trying to be a super good patient, which, for the moment, means lying in bed and watching entire seasons of Battlestar Galactica on Netflix. This is how geeks heal. Haha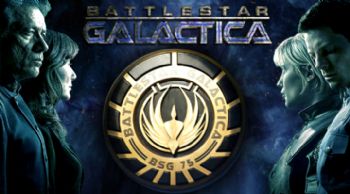 Geeky Sci-Fi on Netflix; it's good medicine, people, good medicine. :)
But I'm learning stuff, while lying around. First-- food must really be at least 80% of the whole weight loss thing, just like people say. Because, when I was slow Sparking and still eating squeaky Spark Solution clean, I still managed to lose some weight. This week, hubs has taken care of a lot of the grocery shopping and meals. Bless his heart. It's been harder to eat squeaky clean. I haven't always had the best choices on hand and my weight went up a bit this week. Second-- I feel hungrier, just lying around, than when I'm as active as I normally am. This makes absolutely no sense to me and it took me a couple of days to realize this. I mean, my body does NOT need as much fuel when I'm lying around watching Battlestar Galactica as it does when I'm super active. But I'd catch myself eating bigger portions, extra snacks. One of my brilliant SparkBuddies, Joy, said something really smart in one of her blogs. She said, "That's what I've learned about maintenance; I have to be involved in things I enjoy more than eating." Boom. That made so much sense to me! Here, all this time, I didn't realize that exercise and activity had been helping me stave off false hunger signals. Hmm, something to be aware of, during this less active period. Knowing is half the battle, right?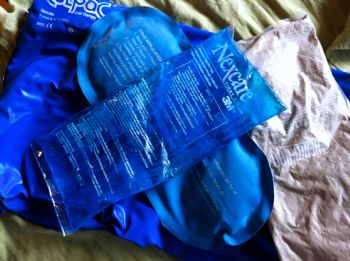 My trusty fleet of ice packs.
So, with these realizations in hand, I'm shooting towards giving hubs squeaky clean shopping lists, eating on the lower end of my calorie range, and not falling for the fake hunger signals. And I have to be patient. I have to remember that, although most of the time I feel like a 10 year old kid on the inside, I'm walking around in a 46 year old's body. And yes, it does take longer to bounce back from things these days. Sometimes, age is just a number and sometimes it's like a speed limit sign. Ha ha.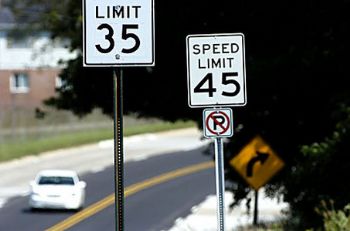 Pull over, lady and put DOWN the hoop!
Whether it's slow, turbo, or somewhere in between--Spark On, Brave Sparkers!