This is a rare moment for me.
As of right now, the phones aren't ringing, the emails are silent. Texting is at a minimum with short reminders from my children who want me to know they love me. Work has loosened its grasp on me and I am enjoying the solitude of a quiet evening at home. "Enjoying" is perhaps not the word...possibly "tolerating" is the correct term as I am feeling foreign and out of place in these four walls as I tap out these letters on this keyboard. My writing deadlines have been met, the bills have been paid and I have cleaned my house, done the laundry, utilized the hours to accomplish all other menial tasks that my racing mind can think of...
Channel-surfing left a bad taste in my mouth after I stumbled on an episode of "Ancient Aliens" and couldn't take my eyes off of Giorgio A. Tsoukalos' hair. I also spent about fifteen minutes on TotallyFreeCrap.com and entered my home address for a free sample of Metamucil and a UFC poster for my daughter's boyfriend. I tried to get an Air Wick deodorizer for my car but they were out of it. (I knew I had to "get a life" when I shouted, "Eww! You gotta be KIDDING me!!!" out loud and scared the bejeebers out of the cat.)
No. I'm not sure if idle time is right for me.
Pffff. Maybe I'm feeling melancholy for days gone by. Perhaps I'm a little ticked off that I don't have more days like this to chill out and do my "thang." So, I'm trying to push everything into one day and watching the time ignite in a burst of bright light then fizzle with each passing minute. Didn't I just wake up, stretch and feel the excitement for the hours to come only to realize it's almost 11 p.m. and I can't remember if I took my CoQ10 and Resveratrol?
Maybe I'm pouting because my daughter is home from college for the summer but she left for the evening to spend some girl-time with her BFF back at the university. You all know my Bre is my shining star, my angel, my reason for believing that life is gorgeous, awesome and full of never-ending hope. When she is here I can weather everything from a crazy-looking spider on my back deck to the craziest of life's dilemmas. But in her absence I am a certified lost soul that misses the most beautiful accomplishment/gift in my life...
I need to change my ticker. It's off by about 20 pounds. And not the "good" 20-pound-end of the spectrum either. My schedule permits "Eat and Run." Okay, that is a load of bullcrap and you and I both know that. I've switched over to "sugar-free" products and DID get in a couple of hikes the last few days but I need to re-prioritize my needs in the nutrition department. Easier said than done but since when have I ever done anything easy?? Am I willing to let that aspect of my life fall by the wayside? Right now, I can't think. I'm too busy watching the clock tick away my last few moments of "freedom."
I don't want to spend them on the treadmill.
What I really want to do is text my daughter and tell her to be careful with her BFF, watch out for creepy guys and stay away from the hookah. And to remind her to lock her car doors, use the deadbolt on her apartment door and make sure her fire alarm has new batteries. I want to call my husband on his last break and tell him to watch out for deer along the highway as he travels home. I want to finish putting the photographs in my new photo album and run my fingers across the faces of my sisters as they smile back from the pictures and cherish the memories of last year's vacation on the beach.
I may not be able to respond to each of you personally right now, the ones who have left comments on my page, sent me beautiful, heartfelt goodies and left me Sparkmails. But I want you to know that they have all come at a very good time during the hustle and bustle of my life. I check my correspondence on my phone religiously and each word has kept me grounded, kept me connected to my "roots" on here. I deeply appreciate you. I miss you. And you still and always will have a very large place in my heart.
God bless you all.
You are loved.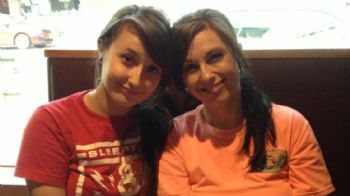 (That is me on the right. My heart is on the left. May 22nd, 2013.)