Man. I can't believe it has been a whole month and a half since I have blogged. Crazy.
So first it was dead week (the week before finals when my teachers are supposed to take it easier on us ... yeah, not so much). Well, I was going to bed decently late, but still managed to eat ok and get all my workouts in (not with my trainer though since he was swamped with school stuff too).
Then came finals. I was up late every night horribly long trying to finish studying for my finals. I only got to the gym one day (while studying flash cards on the elliptical), but still managed to eat ok.
Then Thursday hit. I was so dead tired from sleep deprivation. There was a After Finals Party (so I was drinking from 4pm-2am). Followed by my never going to the gym to workout. Followed by a whole week of barely there gym going (was pretty halfhearted if I went at all), not eating good and sleeping until 11 (well more accurately, sleeping until 8am but laying in bed till 11 or noon simply because I could).
So my Monday morning weigh in for my friendly challenge was at 265.4 ( on 5/6 it was 259.8). So I decided I had to replan. I could not spend my summer gaining weight. No way. That was not part of the plan.
So I made a menu, filled my fridge with healthy foods and planned my fitness for the week (I will be doing my fitness weekly now because of how my jobs change a lot). Sadly, I work nights which is when most of the fitness classes are. So I started going to some morning ones at my other gym (although they aren't as intense as I am used to), but it means I really have to step up my cardio by myself.
I hadn't met with my trainer for like 4 weeks, but I am happy to report we had a great legs session this morning. I am also happy to say I have worked out every day this week so far. And the morning workouts are helping me get out of bed (granted after I work out I still don't do much...). And I have a riding lesson tomorrow that I am really excited for since it has been a while since I rode.
I really don't have a lot to say, but thought I should check in. And check out this healthy lunch I made earlier (spinach stuffed chicken and an apple).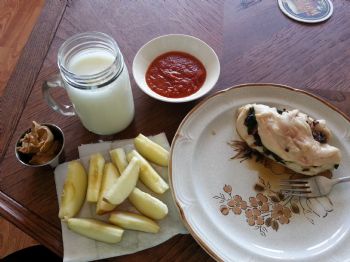 And yesterday I made baked tilapia and baked zucchini fries. So yummy!
Hope you all are well. I have lurking for a while but not saying much of my own.
Next week, I'll be tracking via my phone since I will be out of town visiting eastern Iowa and Chicago with my friend (and helping her mom move!)