As I was looking through old emails and cleaning out my inbox, I found this email from Sheri Rose Shepherd (author of "Fit for My King.") This is such a great reminder for all of us. I have been contemplating whether to pursue something bigger with my passion for fitness and nutrition. I'm still in the "research" part of it. I know that I'm helping several women through my Facebook page/group, but I always wonder if I should be doing MORE. Is that enough? Can I make a business out of it? SHOULD I make a business out of it? Obviously, I love to help others and am more than willing to do it for free, but is this something that God is blessing me with as an opportunity to help my family financially? I have my BSN, I really don't want to go back to school and spend a ton of money pursing a new career, since I think that my BSN is sufficient (or even more so than some of the certifications out there). I am reminded of the quote, "God doesn't call the qualified, He qualifies the called." Meaning that I don't have to pursue more and more schooling, that He will use what I have if that is what I am called to do... Going to continue to pray and research ideas, and will keep these thoughts in mind:
"7 Steps Before You Commit
Your Time and Talent are Valuable, so before you commit to anything or anyone, consider the following:
1. Look at the fruits of what follows that person and ask yourself where will they be leading you. Keep in mind NOT ALL open doors are from God.
"Just as you can identify a tree by its fruit, so you can identify people by their actions." ~Matthew 7:20
2. Take a hard look at your future and ask yourself, "Is this God's purpose & plan for me? Or will this person or project detour, delete or distract from what God may have for me?"
"Mark out a straight path for your feet; stay on the safe path. Don't get sidetracked; keep your feet from following evil." ~Proverbs 4:26-27
3. Ask yourself, "Will I be growing in my walk with Christ when working with this person or on this project?"
"...be on your guard so that you are not carried away by the error of unprincipled men and fall from your own steadfastness, but grow in the grace and knowledge of our Lord and Savior Jesus Christ." ~2 Peter 3:17-18
4. "Will my time and talent invested become a blessing to anyone other than myself?"
"Therefore encourage one another and build each other up, just as in fact you are doing." ~1 Thessalonians 5:11
5. Before you walk away from where you are for a new venture, PRAY HARD and count the cost of what you're leaving behind or giving up.
"But don't begin until you count the cost. For who would begin construction of a building without first calculating the cost to see if there is enough money to finish it?" ~Luke 14:28
6. When the beginning excitement phase is over, is this something or someone that you would want to stay connected to when challenges arise?
"Be sober-minded; be watchful. Your adversary the devil prowls around like a roaring lion, seeking someone to devour." ~1 Peter 5:8
7. Don't allow desperation force you to make a move too quickly. For major decisions, seek wisdom in the Word and wise counsel from those you trust. Then wait at least 30 days and see what God reveals before you invest your valuable time & talent in anyone or anything.
"Be still in the presence of the LORD, and wait patiently for him to act." ~Psalm 37:7
"Your word is a lamp to guide my feet and a light for my path." ~Psalm 119:105"
I want to be committed to whatever I say I am going to do: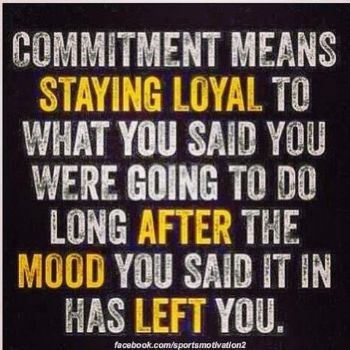 I will trust in the Lord's guidance: