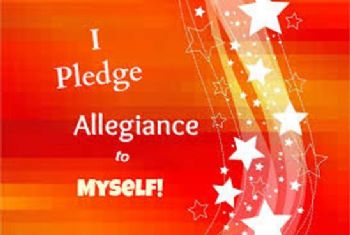 How would you feel if you were required to weigh yourself in front of others? What if your job hinged on how much you weighed? What if your salary was based on a number on the scale? How do you feel about the possibility of the airlines charging the amount you will pay for a ticket based on your weight? Are they going to start requiring us to step on the scale after they weigh our suitcase? Where does it all end? Sound Orwellian? Don't be so sure. . .
I know the government thinks it's acting in the best interest of protecting us from ourselves. Just how far are they pushing us until we have no self respect left at all? Is this all in the name of curbing the "obesity epidemic"? In my humble opinion, it is not.
Do you know that our children are still being weighed in schools? I don't know about you, but I remember being weighed once a year in school. That day, and the vaccination day, were the days I dreaded the most. The problem was you didn't know it until after the morning Pledge of Allegiance. Sometimes, you didn't know until it was time to march down to the nurse's office as a class. They weren't measuring BMI like they are now, but it was possible to get an idea of your classmates' body weight. I know how ashamed I felt. Remembering that - can you imagine what this is doing to our children and grandchildren?
"BMI is not only a problematic and perhaps spurious way to measure health (just check out this recent NYT article about a study which suggests that there is in fact a LOWER risk of death for the overweight), but how the 'obesity epidemic' in general has been framed as a 'moral panic' – a threat to the very social order. My talk focused on the cultural contexts of such perceived threats: the fact that 'fat panic' also reinforces hierarchies of class, race, and sex, and how such threats are used to shame and blame individuals and hold some bodies up as 'normative' and others as 'deviant', rather than holding systems accountable (like the U.S. food industry for their use of GMOs or the market glut of processed foodstuffs).
And there was my friend, telling me how her child's public school had not only bought into this mentality, but was using it as a measuring stick to evaluate children – sending home 'friendly' notes to families whose children's numbers weren't 'right' with advice like 'curb down on those sodas!' (Never mind if your family didn't even buy soft drinks!) Even worse, because these measurements were done in school, elementary school children themselves were comparing themselves to one another – whispering about a girl who was 103 pounds, regardless of her height, and learning, oh, so young, to use numbers like weight and BMI as proxies not for health, but for self-worth, popularity, beauty, and desirability."**
I personally know of adults who are considered overweight, and have low blood pressure and low cholesterol, and on the flip side, others who are thin and have high cholesterol, and other problems. I'm sure the same goes for children. Even though I was what some would call "pudgy" there was no junk food in my house. It was a real treat to have a GLASS of Pepsi once in awhile, usually if we had company, and I couldn't ask – it had to be offered by my parents. If it was with some popcorn, I had hit the mother lode! Parents and children all split a couple of bottles! Not only that, but I was outside after school every day playing baseball, hide and seek, riding bikes, or something else fun, and still not "skinny". Every day in the summer, we would ride our bikes 3.5 miles to a spring fed pond to swim. We'd swim all afternoon, and then get back on our bikes for the return 3.5 mile trek back home just in time for dinner! Can you imagine how many calories I burned, and speculate that I didn't have enough muscle?
Approximately 260 of you agreed with my blog, and signed on to The Body Pledge of Allegiance. We're all on Spark TODAY still struggling with our own body issues and learning to love ourselves because we have gone, and continue to go through this same stuff. We need to become aware that regardless of what we tell our children and teach our children, they are being stealthily undermined by other areas of our society; the media, the government, in school, by their peers. And we're still wondering how our girls can still have this negative image about their bodies in spite of what we tell them? Yes, we need to be on the lookout for these covert interventions that undermine our best efforts to change this insidious undercurrent of self hatred disguised in the name of health.
Here are some examples. . .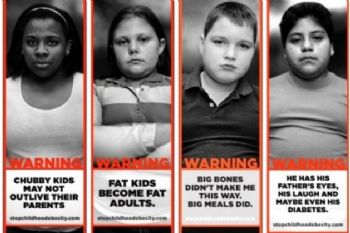 How does the amount of PE your children or grandchildren get today compared to what you got when you were in school? PE is one of the first programs to get slashed in a budget crunch. Yes, we control the home environment, but what about the rest of their day? How is it we cannot hold our schools and government responsible?
Wouldn't it be better for our children to see something like this: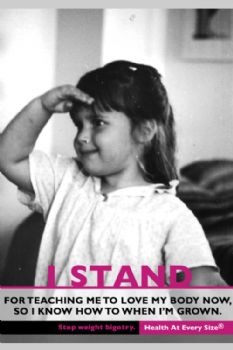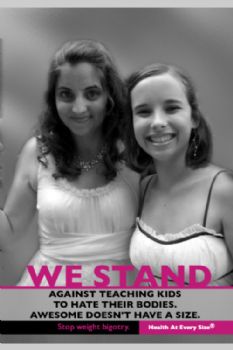 The bottom line is that the 'obesity epidemic' is worth billions to the pharmaceutical, diet, weight loss, media, and government agencies fueling it. The good news is that we don't have to buy into it anymore, and we can fight back.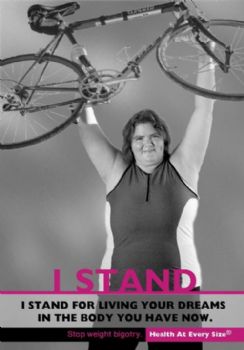 Thanks for stopping by!
** You can read the rest of the article here:
www.adiosbarbie.com/2013
/04/bmi-in-schools-educati
ng-children-in-self-loathi
ng-not-health/
****Google Images****