OK, so I'm usually an upbeat, I can do this, Spark cheerleader. Right now, in this moment, in all honesty, I'm feeling a bit touchy about my choices yesterday and so far this morning...
We've all been here, haven't we? You know, at a place where we are grasping at straws, clinging on by our fingernails, about to step into the quicksand of despair? Can you relate?
So... what do I do now in this moment? What would you do? What have you done in this situation?
First, let's identify what our goal is in this moment as we are teetering on the edge...
My goal is to take a step, perhaps a baby step, perhaps even a tiny gnat step in a healthy direction. What would your primary goal be at a moment like this?
Now I'm going to take that step based on what brings me, personally, some relief, some joy, some satisfaction. What would that be for you? For me, it is not more food, not "comfort" food that results in my discomfort, not some sweet trickster food that tempts me into a sweet/salty binge.
Rather, my next step forward is going to be something that brings me a smile, something that brings me joy, something that reminds me that I am making progress. What would that be for you?
So here I go... here's comes my u-turn back onto the path of my healthy journey...
It's about a belt; my belt. And it's a happy ending story in and of itself.
Once upon a time, just a couple days ago actually, I bought myself a new pair of Capri's that included a belt. Allow me to switch now to third person as I want to view this story from the perspective of that little gnat...
The heroine in this story, ah, that would be me, used to wear a size 16 or 18. On this particular day, she found that she fit nicely into a size 8. Is that the happy ending? Not yet. Patience, patience...
So our heroine, more recently than once upon a time, decides to wear her new Capri's. She happily dons the new apparel only to find to her dismay that the included size 8 belt is too big. Immediately she becomes irritated and even angry that her new purchase does not fit.
Moments pass in wasted negative emotion. Then our heroine does a little trick, poke, flip, and tuck with that belt. She feels her ire begin to fade and then transform gradually into contentment. She looks at her belt in the mirror and realizes that it is a gift. It is an offering and reminder that, yes, she has made some progress.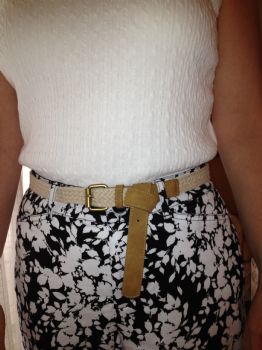 And she lives happily and healthily ever after. The Happy Ending!
The moral of the story? You are the heroine of your health, your life, your destination. Just look, just notice, just mine your NSV's, your progress, your healthy choices. You can acknowledge and celebrate your progress! Set backs are always opportunities in disguise if we learn the lessons offered. You can make u-turns to get back on the path of your journey to improved health. Drink a glass of water, take a walk, read a blog (perhaps one of your own), seek support in the SP community, or go inside and find your spark! Tighten your belt and start with a tiny gnat step in the direction of well-being now.
You know what? Every little gnat step in the right direction adds up to progress. Even the tiniest gnat can fly!