Wednesday, May 22, 2013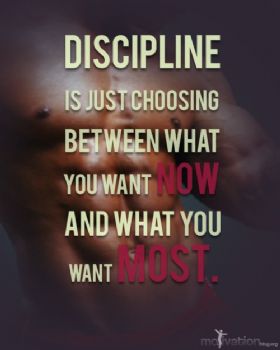 Every morning I search for a little mojo to help myself. Today my mojo is a little light on discipline and following through with my goals. There's always a voice in the back of my head that says: "Your almost 40. Why not just forget this whole 'healthier you' thing and enjoy your life?"
The voice is strong but my heart is stronger.
I have a strong belief that, if something doesn't fill me (mind, body or soul), then it isn't worth having in my life. It may not be easy but eating healthy, exercising, and taking care of myself fill all 3 areas - my mind, body, and soul.
I'm not lacking but the only thing lacking is Discipline.
How disciplined are you? Are you making the right choice when it comes to your mind, body, and soul? Or, is that little voice inside of your head tricking you into choosing what you want NOW over what you want MOST?