Growing up in Brooklyn I learned early to lock the door to our apartment and our car and our mailbox. I always locked my bike and as a young mother, even my "top of the line" baby carriage. (I took the baby)
People are much more trusting here in the country. Some tell me they never lock their doors. Well, that's not me. I've even got deadbolts on every door.
However what really needs protection here is our garden. There are all kinds of creatures waiting to take advantage of our hard work.
We know that the deer were hardly waiting for something to sprout. After DH tilled the garden, I posted this photo the next morning as the deer were setting their GPS to return later.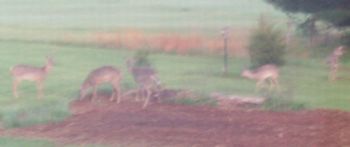 DH started some seeds in the house and put a few little plants outside early – things that deer are not supposed to like.
Sage, basil and chives. No the deer aren't eating them. They're stomping them into the ground. I think that's their way of telling us to put out a better buffet.
We don't eat that, so plant something else.
Before DH put anything else out there, he needed to put up a tall fence.
Here it is.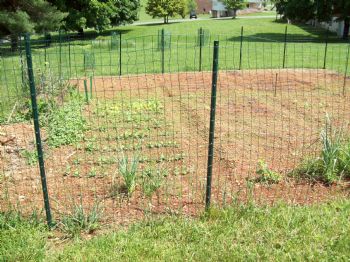 Tomorrow we're leaving for a cruise on the Danube. I'm not really concerned about our house. It would be a very foolish criminal to risk a felony for the stuff we've got. Besides, there will be plenty of family and friends taking advantage of our lake while we're away. It's the determined deer and assorted critters that worry me.
I hope when we return there will be significant growth in the garden and not on our waistlines.