my BFF and I
Tuesday, May 21, 2013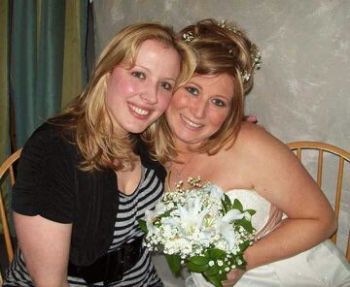 Jamie and I have known each other since we were 13, and best friends since we were 16.
She is a symbol of strenght for me, she brings out the happiest moments in my life. Through all these years, she has been there for me and helped me see how great I am even when I'm blinded by what's going on in my life.
She is the person I call upon when I need to hear how wonderful I am, and I am the same for her. She really is amazing. And so am I. She is sometimes really hard on herself. As I am hard on myself. When I look at this picture it reminds me how how beautiful we both are. How strong we both are. And what we truely mean to each other when we are in the presence of each others company. She has been involved in almost every aspect of my life... and I in hers.
I wrote this for her:
She is more then my best friend she is my sister through love. She is the gift GOD gave me from above. She has been my strenght when I couldnt move on she carried me with the shoulders I cried on. She has walked with me through my trails and tribulations, she was there at my high school, college, and nursing graduations. She is my partner in crime when we go out on the town we dance and act silly and pretend no one else is around. She was there when it felt like my world was crashing down, she got on her knees with me. and help me to my feet. She would say "honey you got this beat" I was ther for the birth of her son and was blessed to see what a wonderful mother she has become.
Years have come and gone we talk about growing old together and needing each other forever. I will always love you Jamie thank you for sharing your life with me.
I posted this to remind me of what a lucky girl I am to have a friend that I can count on. She is someone I shared most of my life with. She makes me happy to be in her presence and to share all my successes and failures with... she is the person I call in the middle of the night. And on her lunch break just to ask how was your day..