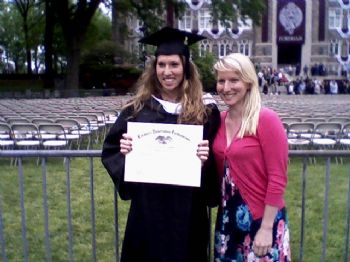 Well the best part it that even though the day was long..... left at 6am and returned at 11pm, I was more than glad I went to see my niece graduate from college!!! And yes, the ceremony DID last 5 hours!! But I finally got to see her beautiful campus at Fordham University and I was so happy to be part of the day and so very proud of her for graduating Magna Cum Laude!!
The challenging part of the day came after the ceremony when we ventured into Manhattan for dinner. Now my young niece forgets, that although I am in pretty good shape, I am still 30 years older than her, and am not at all used to city life!! Now mind you, once we went back to her apartment for her to change, she donned a pair of 3" heels for our trip into the city. I however,made the point of wearing comfortable flats for the day. Immediately we were running to catch the bus that would take us to the subway. If we didn't run we may have had to wait another 30 minutes for another bus, which would have meant we wouldn't make our dinner reservation. But..... we didn't have bus tickets yet, and the bus was coming down the street so we had to run even faster!! OK first hurdle accomplished!! I won't bore you with all of the details, but I spent the next 6-7 hours running to catch buses, subway trains, get across the street without being run over, dodging hand carts on the sidewalk while someone was yelling at us to "get out of the way", and finally hurrying back to the Metro North train that would take us back home..... amen!! I know that there are many people who absolutely love the city, my niece being one of them, but I am not included in that group. It is noisy, crowded, dirty, overwhelmingly confusing ( at least to me as far as the transportation system is concerned), a little bit scary, and just to busy for my taste. I find it amazing, especially "running" through the subway stations how there can be that many people going in so many different directions, each with their own agenda, and not paying any attention to anyone else! The subway trains were way over crowded.... frequently we had standing room only and had to hang on for dear life so we didn't get knocked over each time the train started and stopped. There is however, always a silver lining. It was fun to see the pan-handlers in or near the subway, who sing, play instruments, dance etc to earn a living. We heard and saw so many unique "acts" with people who were really quite talented. The day was initially quite warm and we were worried that sunburn would be a factor, but then it became overcast and by the end of the day it actually began to drizzle, but we came out unscathed. My shoes also worked out quite well... no soreness or blisters. It was good that we brought food and snacks. We are our breakfast on the train, had a snack at a break during the ceremony. I didn't need my book as we spend a lot of the down time "people watching", which was actually quite fun, and we finally finished up the day having a very lovely and delicious dinner at a downtown restaurant. I had a wonderful piece of grilled salmon, with mashed potatoes, and fresh carrots and snow peas..... and YES, I did eat the chocolate lava cake!! How often does your niece graduate from college????? I'm sure all the activity more than made up for it anyway.
So yes, we did all have a very nice day, yes, I'm very glad I went and NO, I never want to live in New York City!!
PS The other girl in the photo is one of my other nieces (sister of the graduate)