Monday, May 20, 2013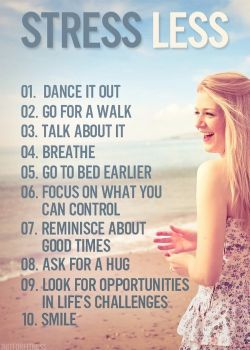 Stress happens... especially when you are trying to get fit and eat healthy.
The problem is that stress can actually cause further weight gain and a slew of health problems you may not already have.
Today, take a moment to think about what may or may not stress you this week. When you have your mental list, take a deep breath and use some of the steps above to decrease it's power over you.
Don't play the stress victim part this week. It's time to take back control and live the life you've always wanted... the life that you've always deserved.