Sunday, May 19, 2013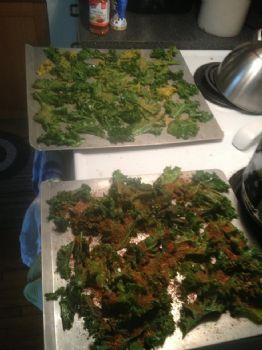 today I baked up some Kale chips. The top ones are a spicy parmesan. The bottom ones were spiced with Tex Mex seasoning. They turned out great! I put them through my salad spinner after I put the extra virgin olive oil/balsamic vinegar on them. It spun off the excess oils. Made them so much more tasty that way. Not too much oil.
Then the Cherry Pie went in. I made this from fresh BC cherries. Sweetened with agave nectar - not much. Just enough to sweeten them a little bit. Add a little corn starch and you've got your pie filling done. The crust is a gluten free one I made. Tastes a lot like short bread. It's going to be yummy. Hubby almost grabbed it BEFORE I even got it out of the oven. lol. He's already planning on adding a big scoop of vanilla frozen yogurt to it after supper. It's gonna be good.