Sunday, May 19, 2013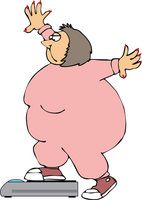 I like to play around with the Mayo Clinic's Calorie Calculator:
www.mayoclinic.com/healt
h/calorie-calculator/NU00598
I put in various weights I'd like to weigh and a "pleasant" :-) activity level for me and see how many calories come up to maintain that weight. It is usually surprising but exciting for me to see just how much one can eat and still lose weight (albeit very slowly).
I tracked my food this whole week; working with the Spark Solution book, I put in their goal of 1450-1550 calories and was a bit disappointed because I ate an average of 1650 calories. But, to maintain weight 65 pounds less than I now weigh at my activity level, the Mayo calorie calculator tool says one can eat 1700 calories a day! That means I'm going to lose the weight, despite what I was thinking of as poor compliance.
It was interesting, too, looking at my nutrients I'm tracking that I only went over with one or two, once or twice; it isn't what I'm eating, it is how much. I think the tracking, alone, is pretty much going to keep me on the losing path. If I up my activity level and/or get my calorie average lower, that will just be a faster, gravy track :-)