Sometimes I amaze myself...and that's a GOOD thing! Yesterday I managed to rack up almost 20,000 steps on Fiona my little fitbit! That's almost 10 miles of walking..woot..woot! I got a good number in on my treadmill workout of 60 minutes and then last night when we met our friends for dinner we started the evening at a nice restaurant that offered happy hour and then decided to walk across the entire huge shopping center to Ted's Montana Grill for our dinner. Now believe me this particular girlfriend is VERY health conscious and she is really watching herself after an almost month long vacation to Croatia with her hubs. Of course they ate out all the time but mostly it was fresh seafood over there so she did really well.
I admire this friend and her fitness and nutrition regimen so much! She starts every morning out with a very BRISK walk and rarely EVER misses it! She never misses a meal either, breakfast is only fruit , and nothing BUT fruit until noon. At that time she's eating whether she is really hungry or not. Her hubs has a small garden here in FL (which is a challenge in and of itself) and they rarely eat out other than with our dine out group once a week. Mostly things are home cooked home prepared with the emphasis on veggies. She has 3 square meals a day with no snacking in between. I'm not so sure a little snack isn't a good thing if you choose small and wisely. I think it keeps your blood sugar more regular. But I have to also consider that because she is eating REAL food she's probably completely satisfied and doesn't need a nutritional boost that can sometimes go awry.
No wonder she looks so great!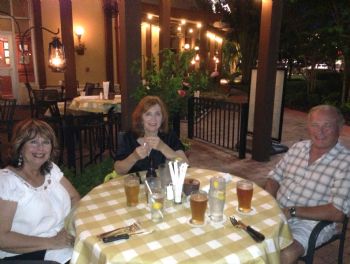 Here's a shot of us last night. Me, Patty and her hubby Darryl. Unfortunately my sweetie wasn't in the pic as he was the camera man. I look at myself all chubby and such and then see how fit and slender Patty is. The camera doesn't lie! I have a long way to go on my fitness regimen. I always tell myself I'm just TOO busy to fuss over my exercise, and it's SO much easier just to go out and order a meal rather than go to all the effort of messing up the kitchen for only two people...but as you can see the camera doesn't lie! You can't control what goes into those restaurant meals even if you ask...if you aren't the cook..you don't know what goes in the meal.
I would NEVER even think about walking across that big shopping center to the restaurant let alone walking back to our cars after the meal. Hummm...this may explain that I need to think about getting from point A to point B a little harder huh?
Patty also takes yoga and pilates and I've noticed a definite gracefulness to her body frame since shes taken on these practices. Again...I'm like...she can do this she's fully retired and doesn't have the stress that I do, nor is she running around like a crazy woman trying to fit everything into a COMPLETELY over scheduled day.
BUT...I'm fooling myself...if I planned a little more efficiently there's no reason I couldn't pop a dvd in and do this too.
Hummm...those 20,000 steps on the fitbit just by adding a little more effort into my exercise have me thinking.

And...it's a good think!

Patty is a good inspirational model on healthy living and aging gracefully...although I have to say...she does get a little professional help here and there!

But she does her fair share of the work too, so why not?

Here's a few pics of some of the new things that have recently came into our little consignment gallery. I HATE that I'm so out of room that I've had to resort to stacking things..I don't like this look...but space efficiency is space efficiency!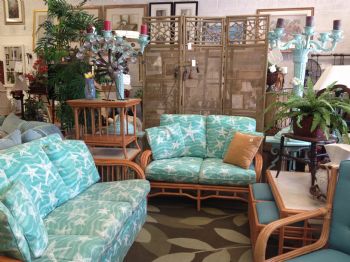 I totally LOVE this little rattan sleeper sofa/loveseat/ 2 end tables and darling coffee table that was designed for 2 little stools to slide right under it. These came from a very high end timeshare condo in Captiva Island. We met the maintenance supervisor a few years back and he hooked us up with great pieces of furniture. We buy this outright from him and then resale. Sadly he is almost ready to retire..so bummer...he's moving to Chile..some days I wish he'd take us with him!

This set also has two of the MOST wonderful lounge chairs..sooo comfy and the rattan is all leather wrapped none of that cheap raffia wrapping that pops and peels when it becomes brittle!
I think you can catch the chair better in this pic.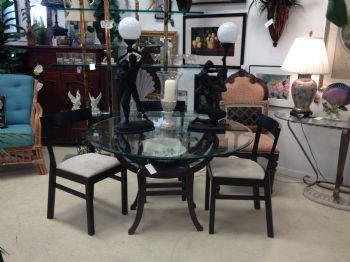 You really can't see the lamps well in this pic but they are to die for. Two sculptures of Art Deco with round globes. I totally LOVE these! Unfortunately Mr. Butterfingers (aka the hubs) was unloading them and one of the glass globes dropped and shattered into a million pieces. It was a satin finish that we can no longer find (even special order) so we had to get two matching milk glass ones to replace. They look okay unless you had seen the original ones...those were so much more elegant looking. The hubs was in the doghouse for at least a day over that one!

But what are ya gonna do...forgiveness comes easy for me..and it could have been me that dropped it just as easily!

This gorgeous sectional is still there. It looks like a soft blue water cloud and is SO comfy! Problem is it's a space hogger so I knew it would take a good long time for the right home to come along. I'm hoping it's new owner finds it soon...I NEED me floor space!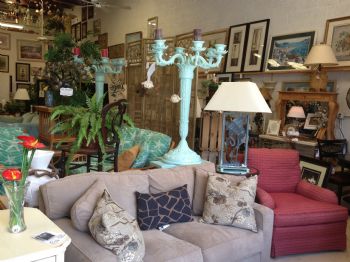 These monster candelabras are sooo cool!! But they too need the special owner to spot them. They would look SO great in a restaurant patio or a big swimming pool area. They weight a TON...so it's going to take the right person to utilize them in the right place. Also I'm not sure the color that the designer chose to paint them is really working. Mint green is nice..but for candelabras...me thinks copper or black or beige would work so much better.
Decorators...a little crazy sometimes!

He is also the one that bugs me every week...have they sold yet...have they sold yet. I'm like...you might want to paint them eh?
No response to that one!

If you want them to be more salable...make em more salable! Honestly I think he expects ME to do it! Ain't happening...not with my 'to do' list.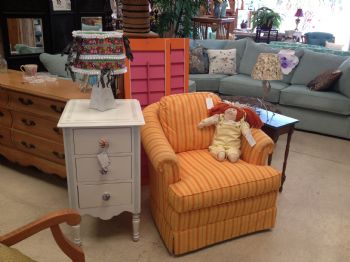 Sweet little specialty chest with flower drawer pulls and crazy orange swivel rocker chair that I happen to love. Other people seem to lack my vision!

Also check out those uber cool shutters..pink and orange..these came from the islands..I personally LOVE em...I'm waiting for the perfect color obsessed artist to walk in and snatch them up!
A great Ethan Allen table and two beautiful chairs all hardwood and hob nail upholstered. I have four of them and they are gorge!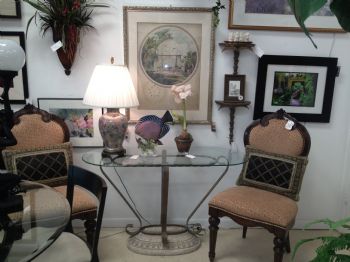 Here's the other two with a nice console table. Consoles usually fly out the door...you can definitely tell it's the summer slows here in SW FL right now.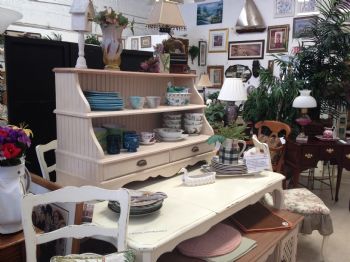 Another stacking trick which I really dislike having to do. This totally cancels the cuteness of the little french country farm table by having to stack this bookcase deal~y on it. But it could work as a desk with storage in a pinch I guess. I just don't have the floor space and more stuff keeps rolling in...sigh...I guess thats a good thing. I can only keep people waiting to get their stuff into our gallery for so long. It's a big compliment that they are willing to wait to bring it to us. Believe me there are consignment shops on every other corner down here in our neck of the woods.

Competition is good...but saturation is BAD!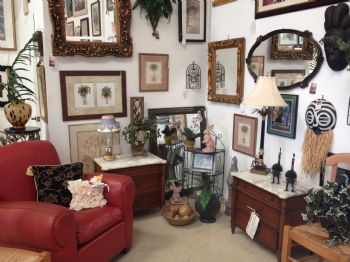 A nice shot of a red leather Pottery Barn chair...I can't figure out WHAT the heck people have against color!

This chair is over $1500 in their catalog and I have it for less than $300...but still it sits. If only I could provide a good home to all my orphaned furniture...they say...don't hate me because I am colorful.....don't hate me because I have history.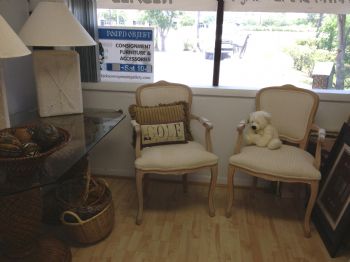 Two sweet little arm chairs, they have 2 side chair sistas and a small frenchie looking table.
That's it that's all for now...time to get productive with my jewelry. I never have time to work on it and as much as I love sparking..it does have to have a time limit.
Remember I'm not soliciting anything with my consignment gallery, we here on spark share our worlds and my world is definitely all about being a worker bee..I just share what I do..and mostly it's WORK...it makes my spark world go round!

We'll meet up with another set of friends for a movies..and oh boy...another meal out after!
Tommorrow is our 35th wedding anniversary..


we REALLY wanted to get away to the mountains..but with our senior cat who is pretty fragile right now it just won't work.
We'll probably scoot out to Captivia Island and take in the sights. I LOVE Sanibel, Captiva and Pine Island..its FUN to play tourist a few days out of the year!
Here's our unwilling picture poser little Keanu...he's 18 years sassy by now and he NEVER wants to smile pretty for the camera!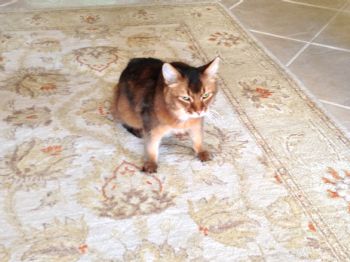 Okay...a little help with posing from his momma!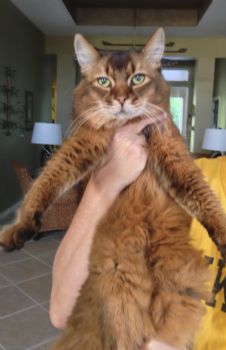 He's saying "Okay...you HAPPY now...derp!"