Just after I posted about my mother's day, my one fur baby had taken a turn for the worse, that is why I have been MIA. I knew it was coming and it is still difficult for me to even type right now with out tears forming in my eyes. He was my baby for 15 years. I never knew his exact birthday but I knew it was in march sometime. We were going to have him put down in February, but we both had reservations and said it wasn't quite his time. I am glad that we waited, because he made it to 15 years and a little bit.
In the afternoon on tuesday I noticed that he stopped eating and drinking, which is completely opposite of how he is. He was just laying there, he could tell I was there and responded to that and would rub his head in my hand, but he wouldn't get up. I had to wait for DH to get home and he didn't until 0030 he worked all day went straight to little league and then went to his mens league game, so he was gone all day. I sat up with my Punkin until 3 am crying and holding him, but DH went to bed and had to get up for work, so I had to sit and watch him all day. I made an appt at the vet to do the inevitable for 5pm. DH made arrangements for his friend to watch Anissa, they came to get her at 4:30.
When we got to the vet they put us in a room to the side, they came in and saw him and took him directly to the back and a few minutes later confirmed what I already knew, that he was definitely on his way out. They asked me if they should do CPR while trying to put the IV in to put him down so that we could be there with him. I told them don't do that, that would be selfish. they came back in 5 minutes later and told me he had passed on. that was actually very quick I don't think they actually put him down and he went on his own, which is what we wanted for him anyways. They brought him in and put him in my arms, he looked so peaceful.
I thanked him for being the most wonderful kitty, he was such a good cat he didn't scratch anything but his scratching post, and never jumped on the counters. He was a good big brother to my other cat Pookie, giving her baths. I would often come home and find them both sleeping on my bed. Up until a year ago I would just look at him and he would be purring very loudly. He was a very snuggly kitty, he liked it when you rubbed his head, he was still doing that near the end. He was so gentle, even with baby.
He was such a handsome kitty.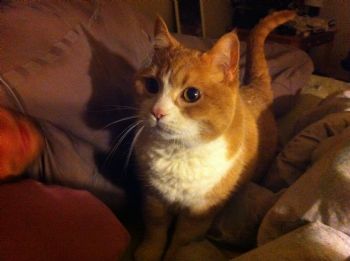 This one here we wouldn't have gotten if we had put him down in Feb, so I am glad. It shows how gentle he is even with baby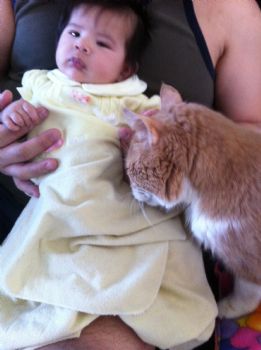 I just loved watching him sleep.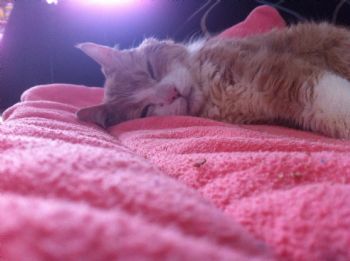 I am in the process of making a memory plaque for him, trying to find old photos of him . I got his paw print. I miss him so much!