That's why "shopping" for me means "where's that clearance rack?"
I keep my clothes a very long time.
Case in point: Here I am in Rome in 2011 with my grandchildren
Here I am in 1996 – same city, same dress, same husband, but darker hair and an extra 25 lbs under that dress. At the time I blamed the wind for billowing out that skirt - excuses, excuses.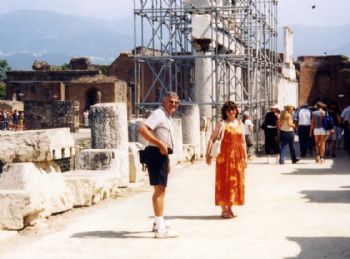 DH is taking the picture along with the wife of the guy I'm with. They're long time friends of ours. We'll be cruising with them again next week.
Even though I don't really care about fashion, I like to buy some new stuff occasionally if only so my vacation photos will look different from year to year.
Now we're taking a 2 week cruise on the Danube – Vienna to the Black Sea.
DH needed some new pants. While he was in the dressing room I got:
4 tops and 1 pair of pants
Original price: $193.98
I paid: $43.16
OK, only 2 items are suitable for spring cruising, but we'll have a winter vacation too. As I've mentioned before, I'm very patient. I can wait to wear my new clothes, especially at that price.
I'm the fashion industry equivalent of the "gleaners" who follow the harvest machinery in the fields so nothing goes to waste. Of course, gleaners are given free access, clothing manufacturers at least get something from me.