So, to start off, last night my honey and I made some pizzas! We used his mom's tortilla recipe and just savory'd it up a bit, then added tomato sauce, light cheese, veggies, and on one ground turkey, the other pineapple. This is the one with pineapple...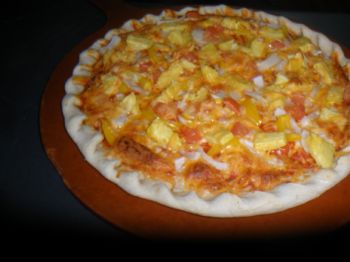 They were so yummy!! I had to stop myself when I realized I was getting close to my calorie limit, haha. That pineapple I got on sale at the store yesterday and we cut it up and it's almost completely gone now. LOVE fresh pineapple.
Anyway, my darling dear has joined me on my morning jogs and this last night we decided to make a date of it and bring breakfast. So, this morning we set out at 7am to the park just outside of town that has the disc golf course. I packed Greek yogurt, tasty blackberries, and a strawberry mocha almond mix for breakfast and I made him a sandwich with cinnamon swirl bread, cream cheese, and jelly.
We went for a jog around the trails in between the disc golf course. We live in the desert, so this place is mostly sand and sandstone washes. It is really beautiful!! I saw this one juniper tree where all the berries had fallen off and created a gorgeous blue carpet around the bush. The birds were out and I was kind of glad my MP3 player died a couple minutes in because I really enjoyed the morning sounds.
Afterward, we sat at the picnic area and ate breakfast and had a wonderful chat about life and listened to some tunes on his phone. Then, since he still had time before he had to jet off to work, we got in a short round of disc golf where we tried to keep score for once, but just lost track. I think I was at par or 1 under. It was just all-around a great morning! So here is my honey and me just after breakfast: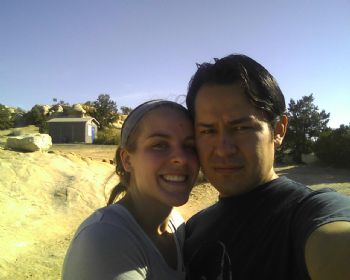 He's squinting in the sunlight, even though it looks like he's being a grump. We couldn't find a place where there was a nice backdrop with no blinding sun, haha.
Now... it is gorgeous out, so I'm going to get back to my book and my shady spot under the tree in the backyard. =)