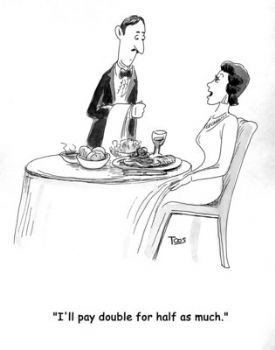 I derailed my calorie tracking yesterday with a few pieces of butterscotch candy. Well, that and an ice cream sandwich :-)
I track quite a few nutrients; saturated fatty acids, calcium, magnesium, fiber, Vitamin C; along with the usual protein, carbs, fats, calories. I'm pretty good at planning my meals and making them come out the way I want too. I love trying to up X and Y while keep Z the same :-) The magnesium should be half the calcium, the saturated fatty acids only 1/3 of all your fats, etc. Getting 25-35 grams of fiber can be a challenge and getting enough protein always is, even though I'm a big meat and dairy eater.
But, I have no trouble tracking, even enjoy it. My problem comes though with planning and knowing what I have to eat laid out for me. I want to kick over the traces when I tell me, "eat this but then that's it". Even when I diddle my numbers and rearrange amounts of this so I can have some of that, I have no trouble with the amounts, just the restriction on nothing not on that list or after you finish everything on the list. I'll plan two beers but then want to drink three, just "because".
So, I have this wonderful, filling, enjoyable, etc. diet going for the day and deliberately want to wreck it, just because. Sometimes I'll wreck it with "healthy" stuff, a piece of fruit even. But telling me "no" never has gone over well with me, not when I was 2 and not now, 60 years later

It is perhaps the biggest problem I have with exercise too; me just telling me I "have to" do something causes an internal fight to end all fights :-) Tricking me into thinking I "want to" only goes so far. I know what I want and spend time doing that already, why would I switch?
I bought the restorator a couple-three days ago, put it together and used it for my knee for a little bit but haven't touched it since except to trip over it. What happened to the every day when I'm watching TV? I use it for my knee and get the thought that I really should use it for my shoulders/arms. But that would mean I'd have to move over to the table and I don't think I can read or do anything else while my arms are tied up like that and the TV viewing isn't as good from there.
So, I am coming to really understand the Pareto Principle, the 80/20 rule:
en.wikipedia.org/wiki/Pa
reto_principle
Now I just have to take the 20 and apply it to that portion instead of the whole.