Thursday, May 16, 2013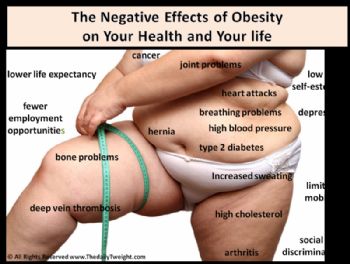 Ok, then! That is pretty graphic, isn't it? It sure got my attention! There are 18 negative effects listed on that picture. Of those, I experienced 8 of them. Granted, that is not as many as some people, but joint pain, social stigmas and lack of employment (lost elections, in my case) are not fun!
There are many health reasons to lose weight, all the converse of those listed. If damage (i.e. arthritis) is already done, then exercise can minimize the pain and further damage.
Since losing weight, my political outlook has improved, but I find that I am no longer interested. I am enjoying having my life back, and that includes being able to spend time with and for me at the gym. Here are some psychological reasons to be fit-