Tuesday, May 14, 2013
Just in case you wanted to see what the "After" looks like at a Color Run, I thought I'd show you this. I did not get a Before picture, but Trust Me -- We were both as Clean and White as Fresh Snow!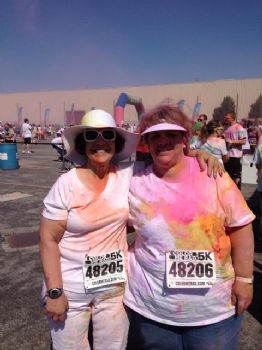 If you haven't ever done a Color Run, you should definitely Do It!! Sign up early while the Price is Low, wear clothes that it is OK to get stained -- Sometimes the Color comes out, sometimes it doesn't! Don't forget to bring sheets or towels to protect the Car Seats on the way home!!