My first mother's day
Tuesday, May 14, 2013
So last minute I decided to go and visit my mom and sister. Hubby wasn't able to go because of little league. I made the 3 hour drive with just squirt and me. She slept most of the way, but started to cry half an hour away from our destination. By the time we arrived she was asleep again, I took her out of the car and handed her to my sister, and told her to take her inside and pretend someone left it out on the lawn. It was a good idea because my mom was quite surprised. Sister spoiled me for my mother's day present with Lulu lemon running shorts and a top that fits my breast feeding boobies. And of course she couldn't resist buying clothes for Anissa as well.
We didn't do too much, just went for dinner and relaxed. It was nice to not have unwanted visitors traipsing in on our family visit. I headed back on sunday and when I arrived I went back outside to get other stuff from the car and I came back in to this hubby holding Anissa and a box of chocolate covered strawberries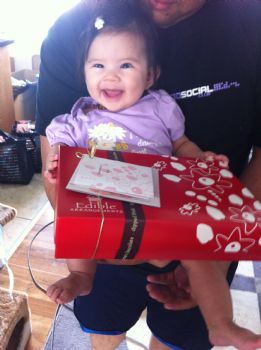 Oh and yes the strawberries were good!