Before I get into anything else I just wanted to say thank you to everyone who took the time to read and comment on my last blog, Attitude Mass Index. I was really surprised how it took off and the response I got from readers. The other side of that story is that I was at work at the time on a 12 hr shift. I was sitting in the truck waiting for a call and that thought just came to me, so I pulled out my phone and started tapping it out. Funny how some of the best material seems to spontaneously come from the heart rather than investing tons of time deliberating and editing. Anyway, thanks so much for the great response.
After many delays and a bout of extremely uncooperative weather, I finally hit the road with my bike. It has been a long time in coming but the weather has been unreal. We had 70 degrees a few days ago then pow, snow!. Us folk from the UP of Michigan are a hardy bunch but I think we can all agree that enough is enough.
A few days before heading out, I got my bike formally fitted to my specifications...ie.. fit to ME. It would take alot of geek talk to fully explain the process but, in short, making sure the fit is correct is crucial to good form and good form is crucial to long course riding. I just purchased this bike last year and rode it quite a bit without a proper fit. It is hard to believe that I got the distances or the times that I did with such a poor setup but unfortunately, I didn't know any better not ever having ridden a tri bike before.
My best times last year:
For distance - 75 miles in 5 hours avg speed 14.9 mph
for time - 42 miles in 2hrs 29 min avg speed 16.9 mph
another note worthy ride.. 53 miles in 3hrs 30 min avg speed 15.1 mph
All of these rides were done in areas that have some pretty epic hills
This year, my first ride of the year was surprisingly good. I have done very little cycling on my indoor trainer and this ride was also after work so I was already tired.
38 miles in 2hrs 23 minutes avg speed 15.9 mph, max speed 33 mph, my average speed on the flats was a respectable 23 mph - ME power! ... lots of hills too :)
The ride itself was tough because a front moved in close to the end. When I started it was 55 degrees but then about 25 miles into it the temps dropped to about 42. With the wind chill on the bike, it didnt take long for my hands and feet to go numb. I called for pickup at mile 30 and went another 8 miles when my wife showed up... aaaah heat!!! I love my heated seats.
I did get some questions about what a tri bike was so here are some pictures of what it looks like.
Proper Form..aero position... (not me btw, maybe someday...)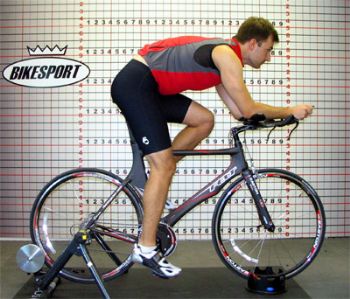 My indoor cycle trainer stand by Cycle Ops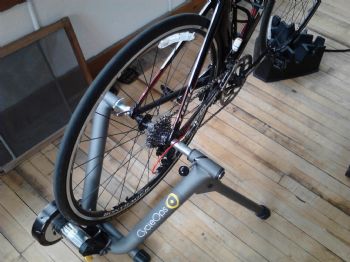 .
Other bike views...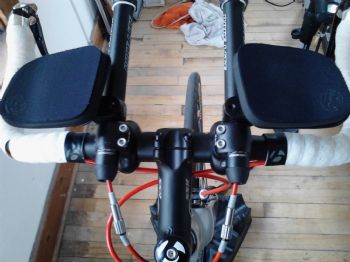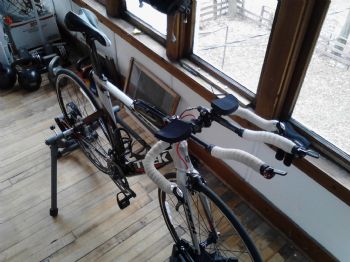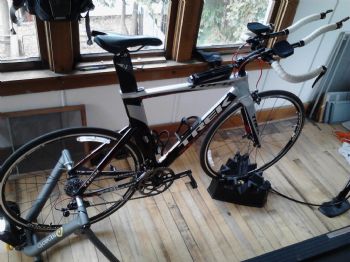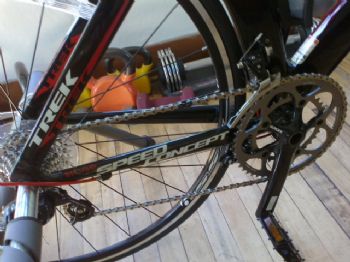 The best rough road tire I have ever used :)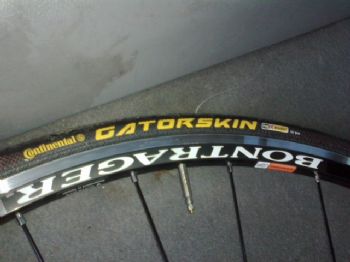 Clip pedal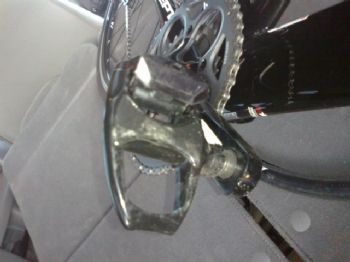 Bike Shoe
Switching to clips and the clip in bike shoe was probably the #1 performance enhancing upgrade I have made yet. Because my feet are attached to the pedal, I get power on both up and down strokes not just on the down. - just remember to unclip before coming to a stop.... I came close to falling over but haven't yet... its easy to do until you get used to it.
This is me when I first got my bike last year, now my smile is even bigger because it is set up right and so much more comfortable in the aero position..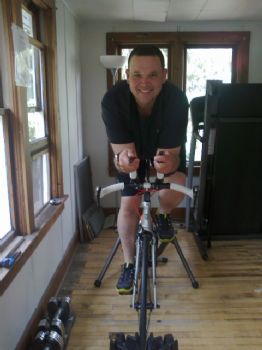 Anyway my confidence is pretty high that this up coming triathlon is going to go really well.